The Start
Boston - Rt 128
Rt 225 and Rt 119
Leviathan Windsor
Over The Line

Training

Weather

Support

Course Info

The Start
John volunteered to get me to the South Boston start, a serious commitment given the 3:30am departure time, but a huge win for Claudia who could then get a lot more sleep before she prepped to set off west to catch up and support the rest of the ride. Everything was ready to go, bikes on the back of The Beast, so all I had to do was roll out of bed and continue to carbo load with a big bowl of oatmeal. Seriously missing a caffeine hit but grateful for last week's lesson that this would be a disaster, I walked down to John and Eve's place to hitch my ride.
It was still dark, but as we headed east the first glow of dawn gradually started to backlight the Boston skyline. I was very quiet, and anticipating this John had prepared a play list, starting quietly and reverently with Debussy, and gradually building up the energy and volume through the likes of The Cure and U2. I was a nauseating mixture of nerves, anticipation and relief that the day was finally here and the weather was scheduled to be absolutely perfect. As we rolled up to the brewery the temperature was probably only in the mid-fifties which was indeed perfect. Any cooler and it would have been a problem, every degree warmer augured badly for the afternoon.
A dozen or so other cars were already there unloading, but it was a wonderfully calm atmosphere. First stress point was to get unloaded so John could drive to the off-site parking, and then get registered. John unhitched my bike while I collected the rest of my belongings and we triple-checked the check list ensuring I had everything I needed. My goal was to be in the first peloton off the line, and I still had no idea how to ensure this.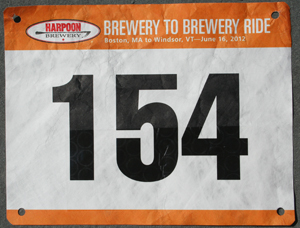 The check-in area was still decidedly gloomy in the pre-dawn, but even in the gloom it was clear that the first step was to pick up my packet. Wrong. "What's your number?" "Number?!! What number? I don't remember ever getting a number?" Panic. "Find your number on the wall over there." Phee-you. My number is 154. Seeing enough to follow the instructions in my packet was a more serious challenge. One's jersey, bike, helmet, and travel bag all had to be numbered with the supplied stickers. The bike also needed a "ChronoTrack D-Tag Tracking" electronic chip attached to the front so we could be tracked on the course. I was very glad that I'd stumbled across (and studied) a copy of the instructions for doing this a couple of days earlier on the web, because it seemed fraught with pitfalls: the collar had to be curled into a loop this way out, and attached to the bike with a zip-tie, this way up and this side out—otherwise it will not work. And of course once you've screwed up with a zip-tie there's no going back.
A volunteer wandered down the line of bikes scoring our efforts. It was good to have his approval, and I asked about the start. He confirmed it was first come first serve, and that I should watch for folks starting to gather—in 10 or 15 minutes. Meanwhile, I needed to hand off my travel bag to the truck loaders. By the time I had done that, and forced a last-minute pee, indeed a gaggle of riders had started to move towards the temporary fencing that funneled us towards the start. I joined the gaggle and jostled to the front. We were counted off until there were 25, and then we were fenced in. Phew again. My highest priority achieved. Check. Now I could start to relax. Sorta. Time for my bagel and cream-cheese. I was not in the least hungry, but I was under instructions ...
4:55 am. John appeared on his bike. He'd decided to take advantage of being in town (and at dawn) to do a city ride. He looked a lot more relaxed than I felt, and it was reassuring to have him standing there calmly watching us start the clock.
An official wandered through the corral. He wanted to know who was riding alone. I raised my hand along with a (surprisingly) few others. He picked two of us and explained he needed two volunteers to ride with Patrick a hand-rider (pedals cranked by hand instead of foot). His machine was so low to the ground that he was worried about his lack of visibility in the Boston traffic. So he had asked for an escort until we cleared Rt 128 (12 or 15 miles out). Of course we were both happy to do so, even though this meant going at whatever pace he set. We were pulled out of the front of the corral, to join Patrick on the start line. So now I was definitely going to be rider 1, 2, or 3 across the start! Later, John confessed that the moment he saw me volunteer he knew my karma was going to blow me all the way home and he stopped worrying about me.
5:03 am. Patrick was ready, we were ready, the officials were ready. "You might as well get going" I look at the remaining quarter of bagel, and look around for somewhere to dump it. The starter held his open palm out like Gunter Went in Apollo 13 collecting gum from Fred Haise, the astronaut he was buckling into the command capsule on top of Saturn V. I gratefully dropped the sticky package into his hand. "We're a full-service organization" he says as we push off over the hump in the road protecting the "D-Tag Tracking sensor", and marking the official starting line.