The Start
Boston - Rt 128
Rt 225 and Rt 119
Leviathan Windsor
Over The Line

Training

Weather

Support

Course Info

Rt 225 and Rt 119
Laurie asked me to hang on while he finished re-dressing. That was cool, I did, and we hit the road together. I was psyched that Patrick was in good shape, and not a little relieved that we'd delivered him safely and could now get down to business. We breezed through Bedford, and as we came out of the northern end, police and volunteers were there to make sure we made the hard left turn to stay on Rt 225. We were going at a good clip and the sharp turn as well as all the bodies in the road made it one of the more exciting moments. I looked back and Laurie was still with me but not exactly on my tail.
I came up behind a group of three or four riders, and tooled along behind them for a while, but finally figured I could not do this all day, and pulled past them on a downhill rather than touching the brakes again. I was reluctant—I didn't want to look like a prat and have them blow by me a few miles later when I'd run out of gas. But 5 or 10 minutes later their lead guy comes by me saying "take a break for a while" and tucked in right in front of me! They'd been right behind me. My first real peloton and I didn't even know it. We kept this up for another half dozen miles, and I could really tell the difference, the amount of free-wheeling, even breaking I was doing when not at the front. But when they stopped for a pee break just west of Carlisle I was happy to press on. Freewheeling made me nervous, and I knew that in theory I had enough gas for the whole trip, so I didn't need the break slip-streaming provided. And I wasn't out to set any records, just to finish. I took one last look back for Laurie, but he was nowhere to be seen.
Carlisle was fun, suddenly being on a piece of my training ground, and the first hill of any consequence. Of course it was a molehill compared to what was to come, but it was an opportunity to compare how I felt now compared to how I normally felt going up it. I felt great. Really great, barely even noticed it. I was reminded too, that this was the exact spot where several years earlier a huge peloton of Brewery to Brewery jerseys had passed me, and although at the time I had absolutely no idea what it was, I knew I had to get me one of those.
Rt 225 crosses Rt 110 in Westford, and there's an ugly few hundred yards along Rt 110 until we turned right off it again at the 99 Restaurant. In the parking lot we passed the first sag wagon (so Claudia was officially not the only one) and this guy seemed to be changing his entire bike. Yikes. We made the right turn and passed under Rt 495, the second major milestone, then back in the shade and back roads of Forge Village, and finally the big right turn onto Rt 119, which we're on for nearly half the entire distance, making navigation easy if nothing else.
It was after we'd been on Rt 119 for a few miles that I first noticed my tail, and there was no question he was slip-streaming. We rolled by Lawrence Academy and I (or was that we?) overtook a pair of riders having a conversation I could have been part of, discussing offspring who were there, how they liked it, blah, blah, I was gone, sailing under the old rail bridge at the west end of town. A major milestone for me, probably not noticed by anyone else. I'd ridden over the bridge many, many times over the past few months, since it supports the Ayr-Nashua Rail Trail, one of my favorite runs, plus on my last century ride I'd left the trail here to join the B2B route. Since this section also overlapped with the last 100 B2B miles I'd already ridden on my first century, the real importance is clear: from here on in, I'd already ridden every inch of the route, so knew what was to come.
Groton to Townsend is a thankless piece of road, busier now that it was getting on for 9am, and with not a lot of shoulder. I don't think there's a single yard of Rt 119 that is level, but here at least the hills are mostly short and not steep. The cycle from one crest to the next seems regular, and less than half a mile, but perhaps I imagined that. Certainly there is a long downhill into Townsend. As agreed, Claudia was waiting at the Post Office in the center of town. "Wow. You are here already." I took a couple of bites out of a bagel, but I still felt stuffed to the gills—my carbos were still fully loaded. Bottles recharged, I headed back out into the traffic and caught a break at the light which stays red forever, and indeed a dozen riders were standing at the line. It went green just as I approached so I barely broke stride, and sailed right past them.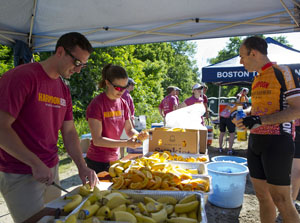 West Townsend, 48 miles out, was the first official stop, and I had to pull in to trigger the D-Tag, to pee again, and to see if Ward had showed up. He later explained that his handy-dandy alarm app finally reminded him of his promise two days later, a tad too late to put in an appearance.
Heading west out of Townsend we immediately hit the bottom of the first major climb, 10 miles and 900 ft up through Willard Brook State Forest. True to last time, the smell of the ferns, the sound of the running water, and the shade from the trees all made for a very tranquil setting, except that it is just relentlessly uphill. I passed the spot where I had previously narrowly avoided a broken bottle and was pleasantly surprised to see no sign of it. And even bigger relief no doubt to the other riders I'd seen practicing that day, one of whom was fixing a puncture. (The rest of the team had sent one guy back to help while everyone else waited further up. One was wearing a B2B jersey, and he confirmed that they were riding this year too.)
About half way up, the road T's out and we must go left. As I approached the junction a policeman marched out into the middle of the intersection and very smartly raised gloved hands to halt the traffic in all directions. There wasn't any. You could hear a pin drop. "It's all yours!" he called out and I didn't even have to slow down. "Nice work" I say as I cut in front of him. "Don't forget to go right at the bottom" he replied. The bottom is 50 yards away and another T junction—the only downhill in the whole stretch. There's not much mistaking which way to go—up—but indeed, making a left here would be a terrible error.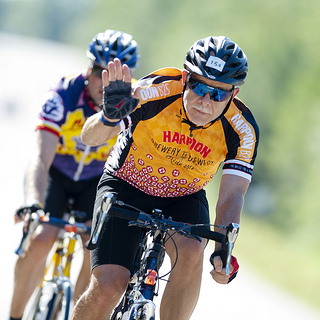 A few minutes later Claudia caught up, and cautiously waved a worried hand as she went by. She can't believe how long the hill is, and was concerned that it was going to decimate the field of riders.
Soon enough, Ashby center appears, a pretty little town that seems a long way from its glory days, but alive and well. If Groton to Townsend was little coastal waves, west of Groton is 20 miles of ocean rollers with the crest cycles a mile or more apart. It is beautiful country, and great riding. Lakes, ponds, forests, fast straight road with a good wide shoulder. Normally straight road is monotonous, but it is such good riding that here it doesn't seem to matter. My shadow is back. I don't really care, because I don't want or need the help, but his willingness to stay on my rear, and his refusal ever to take the lead is at least unsporting. At the crest of one of the hills was a sign saying Photo Op ahead!" Sure enough, at the bottom of the valley, at Mile 59, a photographer stepped out into the road and took a picture.
I can't believe how great a shot it is, and it documents that I was not dreaming: there's my shadow. Claudia can't believe how great it is that my raised hand covers his face.