Support
Seriously, you are only as good as your crew, and my crew knocked the ball out of the park. I can't thank them enough.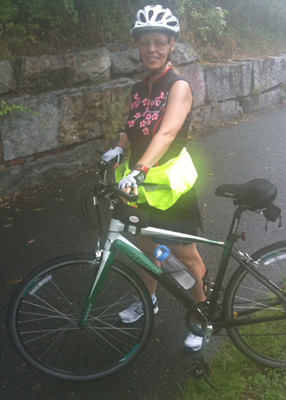 General manager: Claudia. It took her a while, because for several months the training schedule just became a bigger and bigger obstruction to the rest of life, until for the final 6 weeks it was taking all day Saturday and half of Sunday. She took up all the slack without a word of complaint. Stoicism was the most one could hope for.
But in the final weeks, perhaps when she could see the end was in sight, perhaps when it became clear to her that I really was in a position to take a credible shot at the target distance, she suddenly became energized, and started her own planning for the sag wagon effort.
On the day, having her there looking out for me at each of our planned pre-pit-stop pit-stops was an enormous boost, and yet another reason the ride seemed so much easier than the training runs had predicted.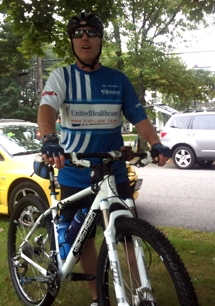 Coach: John Schorum. Neighbor, riding and drinking buddy, and all around pain in the ass, John was relentless in his pressure for me to get the miles in, drink enough, take my electrolytes and stop whining, keep my bike clean, and on and on.
And let's not forget the role he played during the summer of 2011 when he bought a road bike and then leaned on Claudia until she agreed I could have one too. I knew I could not sign up for the B2B without one, and once I brought it home at the beginning of October, I knew I then had no choice but to sign up.
Last but by no means least, he made the 3:30am departure to drive me down to the start on race day.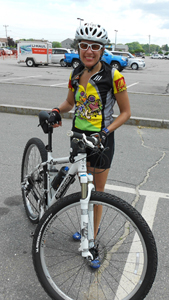 Trainer: Eve Sopko. When it came to putting miles in the saddle, Eve was the only one who could keep up. Her company on many of the have-to-be-done rides, getting up at dawn on a Sunday to tackle Mt Wachusett again, was a life saver. She also invited me to the perfect warm-down the weekend before the ride: an organized metric century (60-ish miles) around a spectacularly beautiful (and hilly) "King's Tour of the Quabbin" What a great day out that was.