The Start
Boston - Rt 128
Rt 225 and Rt 119
Leviathan Windsor
Over The Line

Training

Weather

Support

Course Info

Boston to Rt 128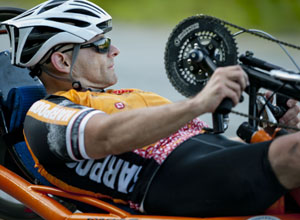 So it was 5:03am when we peeled out of the parking lot and headed off up the road straight towards the Boston skyline. Almost immediately John pulled along side, respectfully on the side-walk so nobody was under any delusions as to his intentions. We all chatted. Laurie the other point guard was from Chicago, and Patrick was from Carlisle, MA but his home's proximity did not make him familiar with downtown, and I was elected navigator, a duty I had sorely hoped to avoid. But so be it. It was an honor to be picked out, a bonus to get out first, and a lot of fun to be out front in the cool morning air. I felt like a coiled spring, and could not believe how effortless the riding seemed. Somehow, knowing that we had to go at Patrick's pace took some of the pressure off. It was what it was, whether it was the key to my success, or the root of my failure.
We cruised up Seaport Boulevard with the sun coming up over our shoulders until we hit Atlantic Avenue. Again my homework paid off, and I had a fairly clear picture in my head of where we supposed to go, but at the last second I also noticed two Harpoon orange arrows taped to a lamp post confirming my decision. We turned right, and bid John an emotional farewell. We spotted the arrows again to make the left on State and I knew we had to make a left from there, but saw no arrows. I couldn't find my cue sheet either which was extremely irritating. By now we were at Cambridge Street and were forced to make a decision. Obviously left, but if we were supposed to have done that earlier, we were now in danger of getting seriously adrift. Imagine my relief when two minutes later a member of the support crew stepped out into the street and waved us right onto Park Street. Now we were all set. Left at the end onto Beacon, then plain sailing all the way to Mass Ave. Turn right there and just keep going until it turns into Rt 225. As John was laos discovering, having these famous streets to ourselves was an almost dream-like experience and paid for the early start right then and there.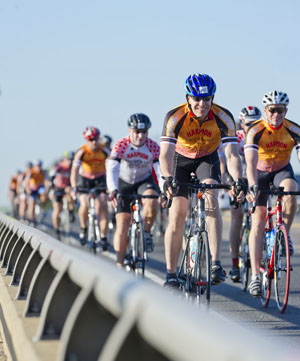 As we crossed the Mass Ave bridge into Cambridge, the rest of the peloton started to catch up. Most folks were pretty curious and hung around for a while before picking up the pace again. That said, although Patrick was pretty slow going uphill, he couldn't be beaten on the way back down. I literally could not keep up. He must've hit 40mph several times. Big groups of riders came by like packs of dogs, calling out instructions and warnings which echoed down the line. Between the potholes, broken bottles and traffic lights, Mass Ave provided an almost constant need for these vocal signals which carried loudly in the quiet calm of pre-6am Saturday morning Cambridge. A sag wagon pulled along side and checked on us. Patrick gave them a thumbs up and they drove on.
Before long we were in Lexington. About 14 miles into the ride and already I'm on roads that I've at least driven before. Serious numbers of riders were coming by now but we were making reasonable progress on the fairly level terrain. Laurie described how difficult it was to do hill training when you live on the shores of Lake Michigan. He'd actually attempted the B2B in 2011, totally underestimated the effect the terrain has, and ran out of gas at around the 100 mile mark. He had not made the same mistake this year.
I hate highway crossings. In addition to them being open (and therefore markedly hotter) the road surface always seem to be in the worst possible condition, and for no good reason, they seem to be a magnet for broken glass and nails. But here, crossing Rt 128 was a big deal, and in my head was a major milestone and therefore I enjoyed it anyway, despite the obligatory potholes and broken glass. Rt 128 to Rt 495 is home turf. It seemed a big deal to Harpoon too, because there was a water input/output station right after the bridge. We made one last check that Patrick was okay, and pulled off for a pee.