Rosthwaite to Grasmere-Wednesday 19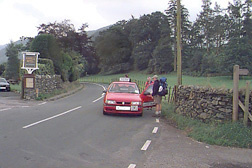 Funny how driven by the weather we have become. (Also driven by cabs as you can see, but only to cover ground we already walked.) And how lucky we've been. It's rained hard for the last two nights, but always cleared up by the time we set off in the morning. Today we could see it raining in the hills on either side of us, but we never got wet.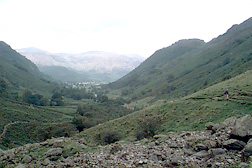 Another long climb. It's getting to be a habit. We start out between two high dry stone walls. The old road is only about 8 feet across, and feels like it has been there since the beginning of time. Two big differences between England's and New England's stone walls. It's about the only thing that is, but an English stone walls is markedly bigger than one from New England. They probably average four feet high, and on rare occasions can be twice that. Second, there's very much a feeling that they are still in use. In New England, stone walls that are in use are almost invariably new, decorative, low-rise things separating a yard from the road. Pretty, but not practical (though there aren't many sheep to be kept in by them either.)
As we climb, the surroundings get wilder and wilder. Two hours later the top is damp, very soggy under foot, blowing hard and cold, and there's no path. No people either. It's a spooky moment. If you go down the wrong side of a hill you could lose hours or even days. The GPS is finally working, and it confirmed what Wayne told us--we have to "move over some." We found cairns, and followed them over the top.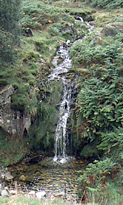 Knees are slightly improved, but I think we're going to have to concede that we old guys just can't keep up wih the younger ones any more. We'll see tomorrow, when we have the option of climbing England's highest peak. But we're all improving a little--we were here by 2:30 this afternoon.
Marty, Lex and Adam meet the kids from the Ennerdale Youth Hostel who make a good impression by opening the conversation with a condemnation of the already infamous nut roast.