Ennerdale to Rosthwaite-Tuesday 18
Long walk up the Ennerdale valley. Sunshine. Alleluia. Owing to the knees, we've decided against the high road (up to the top of the ridge and then along it, as opposed to the low road, along the valley floor first and then over the side).
The dappled greens and purples of the hills are stunning, even the younger element stop to admire them, especially after the very steep climb out of the valley. It's hot by now, and the climb is not only steep, it is mostly scree, so you slide down one step for every two you take up. Wayne is in real trouble: he even allows Marty to take his pack from him when the young lad comes back down to help. I seriously wonder if he's going to be able to keep going if it stays this bad. The scenery changes dramatically over the top--slate mines--but we stop for a well-earned rest and admire the view across the way we have come.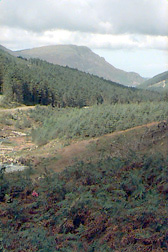 It is supposed to be a very short day, just over six miles. We're done by early afternoon and decide to walk on to the next village. Not least because the Youth Hostel which ought to be in the middle of nowhere is actually in the middle of the slate mine. And its generator. And a car park. And the Youth Hostel's generator.
The village is much nicer, and has a pub. But now we have to hire a cab to take us back, (and return us in the morning.) Slight improvement on pub decor, reasonably pleasant barmaid, and a better pint. Nothing to write home about as they say, but Wayne and I manage to do an evening's drinking in the 30 minutes it takes for the cab to arrive.
Still no political problems. Everyone in remarkably good spirits. Though some people are more careful about keeping their boots dry today I notice.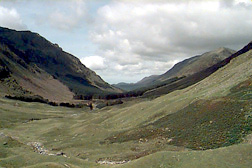 Filling in and "improving" this log now that we have returned, I find I can remember little about this hostel and particularly little about its food. We found the Youth Hostel's varied tremendously, and this one stands out in my mind only for it's disappointing location, and for the fact that it was completely locked up (some remain open all the time, and all but this one had at least one room where early arrivals could rest out of the wind or rain, and get their boots off--not here though). Next time we do this, we'll definitely stay in the village--it'll save us 20 dollars in cab fares as well as giving us more drinking time.