Cleator to Ennerdale-Monday 17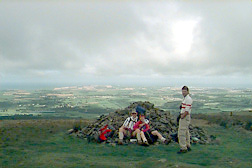 The B&B landlady dropped us off in Cleator. There is no doubt where we need to go: up. But at least the weather is better, or at least it is by the time we start. It has rained heavily overnight. With Chris gone, and a different place to stay tonight, it feels like we are truly getting started (yesterday was a trial run?).
It is a good haul up to the top of our first climb, but nothing in comparison with what is to come. The view from the top is encouraging. We can see the sea behind us, but also the hills in front. As we descend into forest, we get our first navigational challenge: none of our written instructions match what we are looking at, and the paths are too numerous to give a positive identification. The GPS would be great now, but the new batteries I put in it are flat. Plus I haven't had time to tell it that it is now in England. We send scouts in several directions, and after losing about 20 minutes, make a decision. We've only been moving again for three or four minutes when we find a water tank--one of the objects that is described in our books.
Down the other side, we stop to talk to a fellow hiker. Claudia asks him if we are going in the right direction. "Depends on which coast you are heading for" he replies, and on learning that we are, obviously, heading east, he more helpfully warns us that it is "a little wet" in the bottom. This turns out to mean that the streams we have to ford are running six to twelve inches above the stepping stones. Everybody gets wet boots except the princess, who has to be carried over. Which means the frog has to cross each stream three times. It's a beautiful little valley though--straight out of "Prince of Thieves."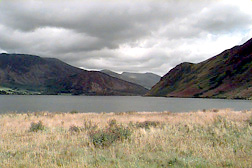 Finally, our first lake: Ennerdale. It's luxury to be walking on the flat, and we have a stunning view as we walk along just feet from the lake shore. We pass Robin Hood's Chair. It's on a small headland that we have to climb over (we've walked around every other obstruction so we can stay close to the water) and the scrambling reminds Claudia and me a little too much of a rough walk we took in Corsica a year or two back. Needing to use your hands to walk is called climbing, and there's a reason why some of us do one but not the other. Fortunately the section is short, both in length and height. People are tired. Both the old men are suffering from bad knees.
The kids can't believe we are staying in a place that still has no electricity. And "school lunches." The Youth Hostel warden is on her own and there's a choice of fruit juice or soup for a starter, no choice of main course (nut roast) and dessert. The older generation think it is great that the meals are laid on. The younger generation are mortified that they're eating nut roast. It becomes the measure against which to judge all future meals: "almost as bad as the nut roast", "I don't care if it is lizard entrails, just as long as it isn't nut roast." Another family sit in silence while their three teens poke the roast around in the same fashion. At around 8pm the gas lights go out. We speculate that there is a curfew, but a few minutes later the Youth Hostel warden comes by to change the gas bottle.