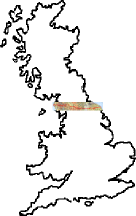 This Web site commemorates the Coast to Coast walk undertaken by Adam, Alexis, Claudia, Marty, Richard and Wayne in the summer of 1998.
Preface explaining how we came to be making this trip in the first place
The diary.
The players
Wayne's bird log
hotspots for daily pages on banner above
and a brief history of the Web site.
Start here, or the diary, or click on any of the dots on the map above to jump to a specific spot. One last thing. Click on any of the illustrations in the main body of text to see a larger version of the image.