Night

stop:
Lava

Tower

Camp
Elevation:
15,213 ft
Gain:
2,418 ft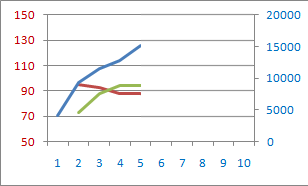 | | |
| --- | --- |
| | 88% |
| : | 94bpm |
| Trek Time: | 5h |
| Distance: | ? miles |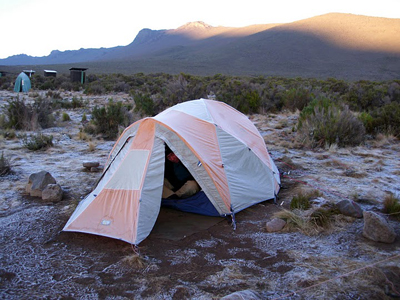 Photo courtesy and Copyright © 2010 Mick Lemmerman
Needless to say my experiment with the open PUR was not repeated last night. Wayne's sage advice to stop drinking after our afternoon tea has helped hugely though it went against my better judgement not to be hydrating constantly. But as I was packing this morning I once again found a significant wet patch. This time it was traced to my Camelbak. Note to self: make sure the Camelbak hose is higher than everything else.
I told you it was cold! Just as the reference yesterday described, "temperatures can [and have] dropped below freezing." But in the morning despite this frosty tent, Bruce was still in his shorts, and Penny was using her warm water ration to wash her hair.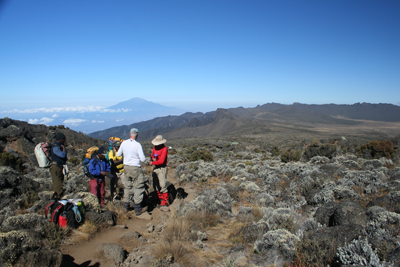 I know this because I had time to gaze as Andrew and a porter worked on my gaiters. Andrew declared that he would try to find me some replacements before the final ascent. I have no idea where he thought he was going to get them from, but this would be a godsend, there was no way I was going to get these POS's on over any further layers.
This was probably the most "boring" day. It was a short walk for starters, and almost all the vegetation was now gone. One highlight (sorta) was when several trails including ours meet up with a path that loops right around the Kibo summit. This path is known as the Kibo Circuit, though it's often divided into two halves, known as the Northern and Southern circuits. From here, three further paths lead up the slopes to the summit itself, including the infamous, and now closed, Western Breach.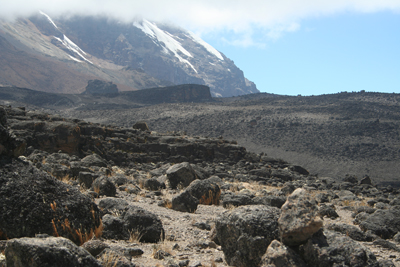 With only rocks for company, people still took plenty of pictures, but few make interesting viewing. Here's one just for the record. During the morning the last of the vegetation had gone, and now we could see the big black sugar cube that was our destination, Lava Tower. I like this picture in particular because it shows how closely it is nestled under Kibo.
Flora and Fauna
I've always had trouble spotting birds in the forest (okay, even more trouble) but out here on the plateau the alpine chats and white-necked ravens are abundant enough for me to see them.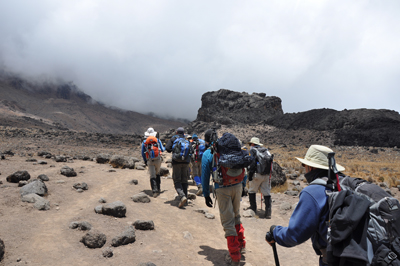 Photo courtesy and Copyright © 2010 Doug Day
However the prize for the most beautiful bird on the mountain goes to the dazzling scarlet-tufted malachite sunbird. Metallic green except for a small scarlet patch on either side of its chest, we stopped for several minutes to watch one hovering above the grass, hooking its long beak in to reach the nectar from the giant groundsel flowers (Dendrosenecio kilimanjari) or feeding on the lobelias. Even more distinctive however, are the two long tail feathers which I finally managed to see clearly in the bins, but which CHI-D managed to catch "on film" in what is probably the money shot from his collection (IMHO).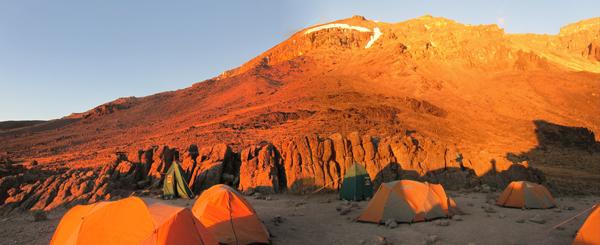 Photo courtesy and Copyright © 2010 Brian Gourlie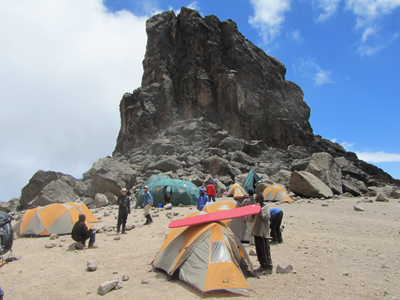 Photo courtesy and Copyright © 2010 Brian Gourlie
Lava Tower
Man, was I happy to pull into camp at Lava Tower. As Mick said "I might tear up." At 15,200 ft, it is only 500ft shy of Mont Blanc, surely the highest I'd ever been until today, and I distinctly remember how short of breath I was up there (plus we were at the cable car station, not up on the peak). Andrew warned us that this was the most likely place for sickness to appear, but so far so good—at least from an altitude perspective. The best news of all is that this is as high as we're going to be for the next three days, so if we can make it here, then we can almost certainly make it until the final ascent, and that feels like a very reasonable place to give up if one has to.
This was a short day's walk, so about half the group take up the offer to bag Lava Tower. Hakuna matata, I definitely have the stamina, but I have zero interest in rock climbing/ scrambling in general, and unnecessary climbing/scrambling in particular. That is just plan dumb. In addition to it being unpleasant, what if one slipped and twisted something?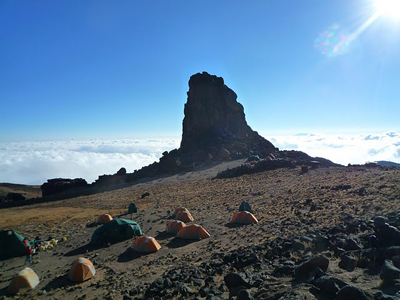 Photo courtesy and Copyright © 2010 Steve Cory
Having said we were not sick, of course that is not strictly accurate. As I've already reported, there was at least one case of diarrhea in our midst, and Mick had had a seering headache during the day, but drugs seemed to have fixed it.
Much worse, for the first time ever as far as I can recall, Wayno took to his bed as soon as we got to camp. He had stomach cramps, which is why I did not count him just now, but not having altitude sickness does not mean you are not sick. We debated all over again the rationale behind eating the uncooked fruit and vegetables we are being served. The consolation is that his confinement did not mean he was missing many birds or any other fauna. Plenty of white-necked ravens, and this time I found plenty of mice of my own, but that's about it. For my part, for the first time my notes record "a certain lethergy, and even less ability to think—at least to work through anything complex." That might explain why it has taken until now to realize that most of my mild headaches were in my eyes, and I resolved to switch to my cycling glasses from now on. They may look pretentious, but their wrap-around design would do a far better job keeping the sun out than my regular glasses were doing.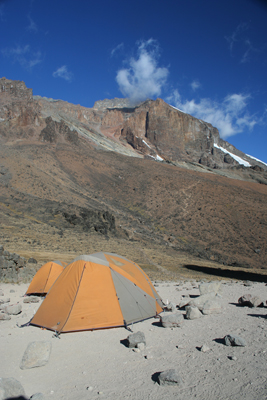 I was not kidding when I said Lava Tower is right at the foot of Kibo. From our tents we can clearly see Uhuru and the Western Breach.
The Western Breach is the most dramatic of the gaps in the outer, Kibo Crater (1 by 1.5 miles (1.9 by 2.7km)) where the walls have been breached by lava flows. Many climbers used to summit each year through this breach, but the route has been closed since 2006 due to a rockfall that killed four climbers. Uhuru is directly under that middle cloud (the one that looks like a boxing snowman), and the Western Breach goes up somewhere between the taller rim on the left, and the Uhuru ridge in the center.
I took Wayno some supper so he could stay warm in bed, then hung out in the mess tent with some of the others. Obviously, making it to this milestone altitude, and with the goal clearly within our sights for the first time, talk was even more focussed. F-Doug: "If Wilson says pole pole will get me to the top, then I'm f%&king going pole pole."
We talked to Nick about his continuing struggles. "It's easy to give up. It's really hard being last all the time." A touching observation, but he also knew that he would not want us all to walk at his pace, that he had turned down numerous offers to help carry his load, and that any one of us, and all of us, would do whatever it took to get him to the top. But the bottom line was, as "the-five" had discussed before setting off, being last was nothing in comparison to being responsible for the team failing. We were much more comfortable knowing we could, and should, give up as an individual while the team kept going. Without this escape clause we might be tempted to take dangerous (which here means potententially life-threatening) risks. So last home each night, but still home, needed to be okay. We were with him every step of the way.

Proceed steadily upward over expansive idgelines of high desert to our camp set in a striking spot near Lava Tower. You can test your ardor this afternoon or tomorrow morning by climbing to the top of Lava Tower for spectacular panoramas.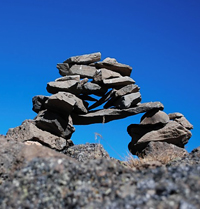 Another random cairn
This one also...
... courtesy and
Copyright © 2010 Bruce & Sheryl Kuo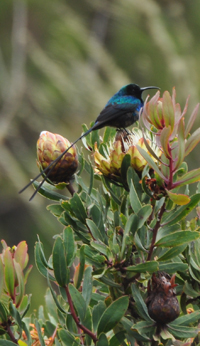 Scarlet-tufted malachite sunbird
The prize for the most beautiful bird on the mountain. And the prize for the money shot goes to CHI-D. Can't see the scarlet-tufting on either side of its chest though Doug...
Photo courtesy and
Copyright © 2010 Doug Day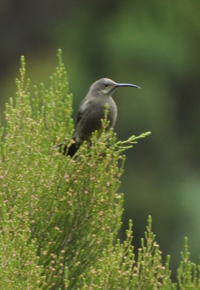 Second prize second sunbird? Female Malachite?
You were having a good day Doug...
Photo courtesy and
Copyright © 2010 Doug Day