Blakey Moor to Grosmont-Tuesday 1 September
After an evening confab, it is agreed that Wayne and Claudia will set off with a one-hour start. This gives the younger generation a lie in, and Claudia doesn't feel like she's bringing up the rear the whole time.
It's rained hard during the night, and although it has eased off considerably, visibility is down to about 50 feet sometimes, but averages about 50 yards. Someone makes an observation about the weather and Lex replies "suck it up and deal." Yes ma'am. It's become one of the catch phrases, and it was perfect for the moment.
On the flat, featureless moors, navigation skills are again tested. This time we have to make decisions, so it is important to know exactly where we are. A watch is as important as a compass and map. I time our progress, which because of the road/flat terrain, is reasonably constant and predictable. Right on time, our turn looms out of the mist.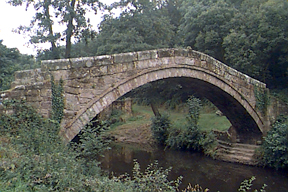 At a signpost, we stop to help a lone traveler. He has no map case, and his map is a damp and crumpled heap. Our position is not on the exposed section. We help him refold, then show him where we are. For two miles, he's never more than 6 feet behind, but it is clear that he cannot keep up. I check with him that he doesn't need us to keep an eye on him, then we accelerate away.
By the time we descend into the first of the two villages we have to pass through, it has stopped raining, and the mist has lifted considerably. We later learn that another lone hiker Wayne's been talking to made a mistake here, spent five hours on a moor he shouldn't have been on in the first place, and lost a day.
Though we haven't caught up with Wayne and Claudia, we've made good time, so we stop for a pint (for me) and eat our lunch. We didn't want to find that W&C had been waiting there for us and we'd walked past...
We finally make Grosmont, famous for it's steam engines, and we're on the little station platform when we discover Wayne in the crowd. There's no pub, and no money. We buy cans of beer from the village shop, and repair to the B&B where we boil water to pour onto Cuppa-soups and Ramen. Unanimously voted the worst meal of the trip.