Chop Gate to Blakey Moor-Monday 31
Our B&B host may have solved the riddle of the moles: the mole-catchers skin them as the pelts are still used for making gloves. The moles were not obviously skinned (but they were pretty desiccated so it's still possible) and it definitely explains why they were not the black color I was expecting.
They also confirmed the article I'd read about llamas. We'd seen theirs in a field with their sheep. And as reported, it did indeed protect the sheep. It tolerated their own dog, but any other dog in the field was seen off very quickly--nearly knocked the wife over once as he barreled past to deal with one he'd just spotted.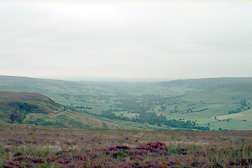 Withering heights. Same terrain as yesterday (but flatter), but a cold wind and dull conditions all morning. Unusually, the wind is in our faces. The landscape is featureless which makes navigation difficult, but since there's only one path to follow, we're unlikely to stray too far. After a couple of hours, the mist lifts enough to get a couple of photographs.
But it only takes all morning. Even the back markers are home by 12:30. Three hours to walk nine miles is three times quicker than we were walking at the start. The long section along a disused railway line helped a lot, but even Marty has observed that he's fitter now than he was.
And tonight's star attraction: almost another Tan Hill--pub in the middle of nowhere, but the Lion Inn at Blakey is right on the trail. It's much larger, but the same lonely location. Our rooms are perfect: above the bar, and arranged around their own little sitting room. So although the bathroom is not ensuite, our three rooms are the only ones that access it. And every couple of hours we can drift down to the bar and order another couple of pints of Old Peculiar. If we've got to spend an afternoon not walking, this is the way to do it.
And it is at this point, as I lounge in our sitting room looking out at the drizzle, supping on my second pint, that the laptop died. A singular bummer.