Shap to Newbiggin-Saturday 22
We're pretty stiff and lethargic this morning. It's a big day though, because the inspectors are arriving (my mother, Rachel (my daughter), Caroline and Corny (Claudia's sisters)).
We haven't made advanced arrangements for pack lunches because I figured that we'd be able to get something in the village. This turns out to be true, but the shop doesn't open until 9am. By the time we're all outside it, that's not so long a wait. Almost as soon as we leave town, we cross our first major road artery: the M6. There's a specially built footbridge, and on the fence leading up to it is a row of executed moles impaled on the barbed wire. I don't have the camera, but we will come across a similar scene later (and this photo is from that almost identical site).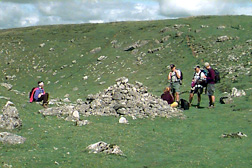 This is Robin Hood's Grave. "One of many" Adam says. "Total BS" is Marty's conclusion (he wants to move the pile to prove it.) Alexis simply thinks that putting it 100 yards off the path is a waste of a person's energy. The more romantic of us think it a lovely spot, and pause to absorb the atmosphere. I haven't told any one until last night that it's 13 miles today--nearly as far as yesterday. But it is very different walking, and it should take us much less time.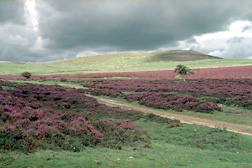 We're clearly in the dales now, and Claudia much prefers it. They say that navigation can be harder in the lowlands than the highlands, and we find this to be true. Wayne is enjoying the tests of our map reading skills. Twice today we are forced to just take a compass bearing and set off in a general direction until we meet another definite landmark. It is remarkable how the path varies. At times it is worn a foot deep into the ground. In other places you'd never know that anyone had ever been that way before.
We're longer than I expect, and this road goes on forever, but to my great relief, the visitors have arrived already, and have come a little up the road to meet us. The next week promises to be very different than the last. Hopefully there will not be too many family feuds!
We're split between two B&B's tonight, but with a hire car this is not a problem. The two landladies have volunteered to feed us, and they put on an incredible spread: fish pie, quiches, salads, breads, cheeses, chocolate desserts, even a trifle. Furthermore, my request for a selection of local beers has been very imaginatively catered to. The house is beautiful, old, and very homely. The visitors sitting room is paneled entirely in wood. It smells like a cross between a church and a library. Since we are obviously the only guests, we have the run of the place. Good food, good beer, good company, and good surroundings: a memorable start to the week with visitors.