Saturday 31 March 2018
Two years of planning, two days of collecting the team and redistributing them locally (thanks again Brian), two hours of driving north, and two minutes to throw our bags in our rooms and finally we are gathered, complete, at the communal (brewery) table. As is his custom in a new brewery, Ryan ordered a flight, and Nick and Grim followed suit. Ryan: "This is all the same beer, just different colors." I tried to order an IPA but significantly they did not have one. A brewery without the signature American beer? As if that was not bad enough, their guest IPA was Lord Hobo's Boom Sauce, brewed right back where we had started. No thanks. The food and the service were similarly lack-lustre but we really didn't care. We were nervous, apprehensive, excited, and relieved to be safely gathered. The company was all we cared about. Now all we needed was Jim to show up in tne morning, our gear to pass muster, the boots to fit, and for Jim to declare the weather to be within our endurance capabilities.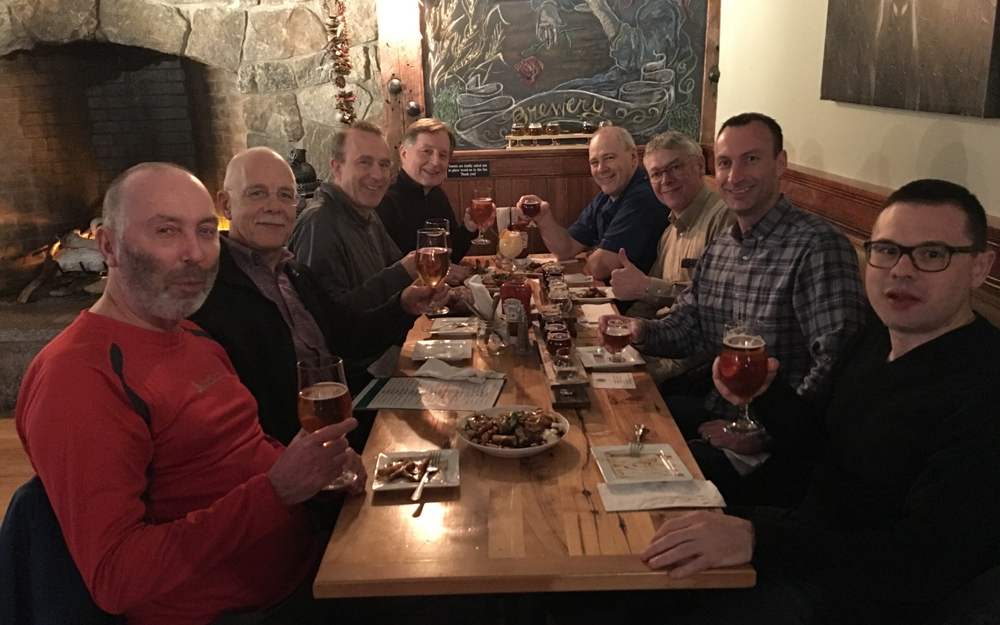 I love it when a plan comes together. The Dream Team. L-R: Mick Lemmerman; RT; Mark Gretton; Brian Gourlie (BG); Nick Thomson; Andy Grimshaw (Grimmy); Ryan Grimard; Adam Thomson
9am the following morning we had checked off all points. It was great to see Jim again, but a little disconcerting to find he was on his own: I really had assumed that with eight of us he'd have back-up. BG and I are sporting our matching new backpacks, replacing our matching old backpacks bought in 2009 while prepping for Kili. Jim didn't like the lack of top flap which always allows room for just one more thng to be stuffed under it. Essential in the winter. Jim gave us the weather briefing. The weather was supposed to be very windy with a break in the afternoon, but turning overnight to a full-on storm. Again in theory it was predicted to have eased off sufficiently by the time we needed to start out again in the morning that we should be able to cope.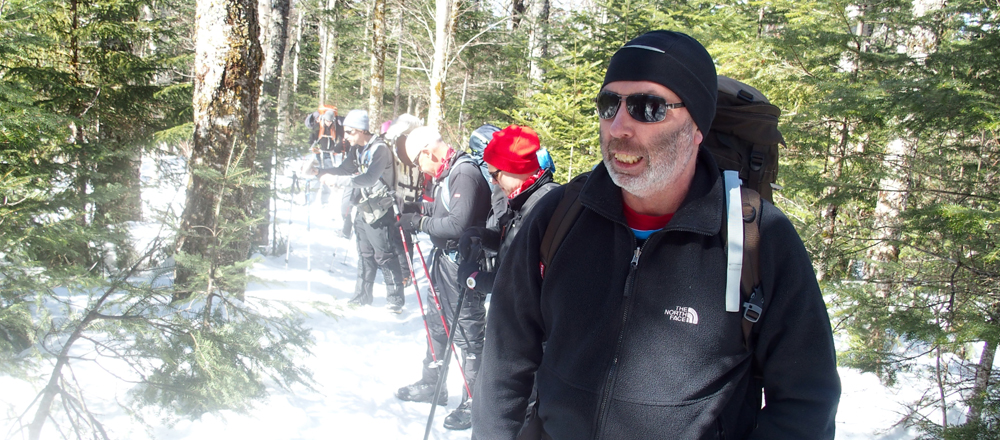 Mick takes an early lead, followed by Adam, RT, Jim, and maybe Ryan. Photo courtesy Mick Lemmerman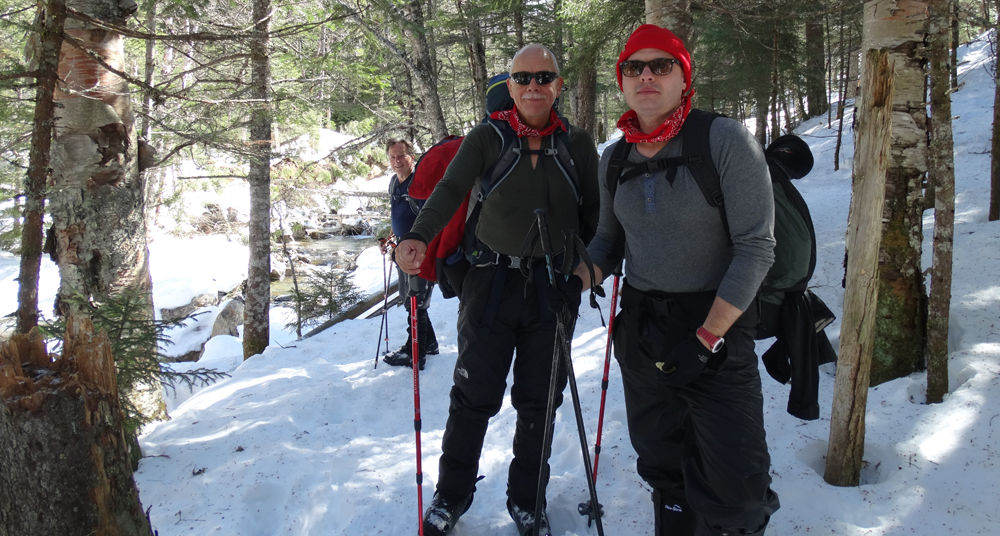 Adam and RT with BG in background after the first stop to strip down to base layers. Photo courtesy Nick Thomson
We agreed that we would use the Ammonoosuc trail, the same route up that Brian and I had taken in 2016 (and that Ryan and I had taken down in a defensive move to get a much bigger and younger team off the mountain in bad weather in the fall of 2017). It has spectacular views, and leaves you below the tree line until you are right under Lakes of the Clouds AMC hut (hence its use on both those occassions). So after a brief stop in the brilliant sunshine to get some road-side snapshots of Washington, both the mountain and the hotel, we drove up to the parking lot near the cog railway and suited up.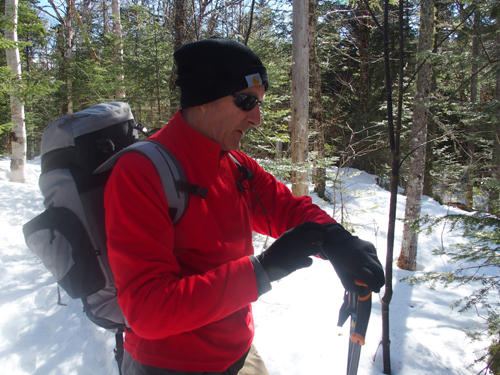 Mark sets his stopwatch. Photo courtesy Mick Lemmerman Water temperature below freezing. Photo courtesy Nick Thomson
We were at our first major stop only about an hour in, and ready to don crampons, when Mick pulled up lame. As soon as he opened his mouth I started to curse our lack of guide backup. If Mick couldn't go on it would be terrible, but if we all had to turn back it would be a tragedy. No one, least of all Mick himself, was prepared to contemplate that, but if and when Jim decided that that was what we were going to do, then that would have to be what we were going to do. Or I'd have to go back with him, which I would readily have done if that had meant that Jim could then continue with the rest of the team, but damn! I would have missed it just because we didn't have the spare guide. Nothing was further from Jim's mind. He relaced Mick's boots, and then when that didn't help, took them off completely and removed part of the liner to change the way the boots lined up on Mick's ankles. All manner of people passed us, on skis (WTF?) on snow-shoes, and in one case what looked like sneakers. Three likely lads looked like they had stepped right out of an LL Bean catalog circa 1960. They recognized their limitations and planned to turn around at the tree line. There were also a surprising number of dogs. Most on four legs, but one on three. They were all clearly having a blast except two little 10 pound something or others who were doing the one-foot-off-the-ground trick to warm up the spare as they stood there shivering. I couldn't understand why they did not have coats if they were not going to be carried.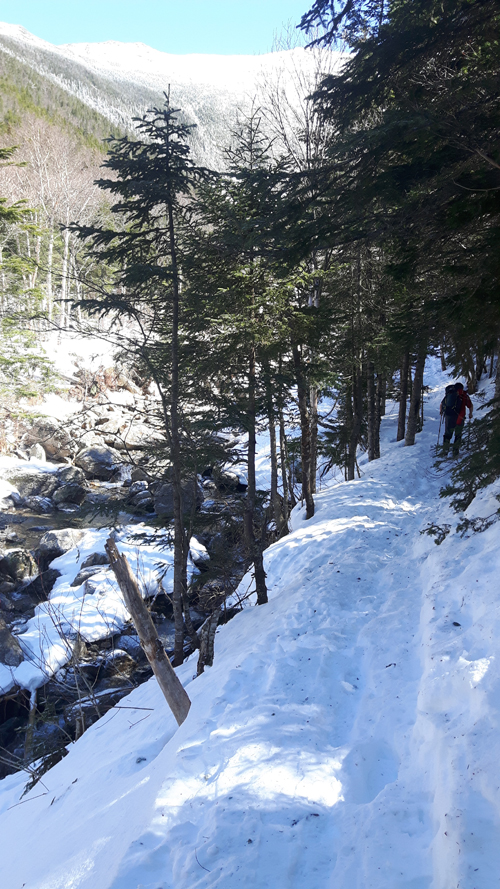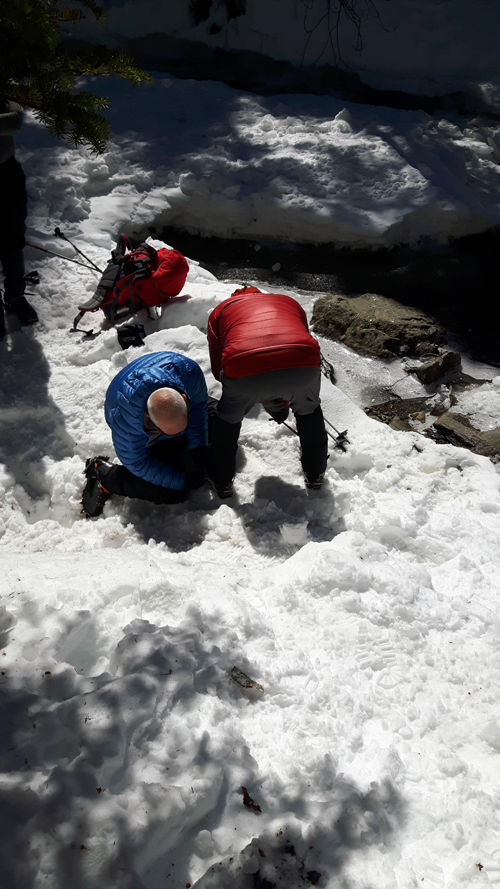 Nice shot as the trail narrows on the steep sides of Monroe Brook. RT tries to assist BG with his crampons. Photos courtesy Andy Grimshaw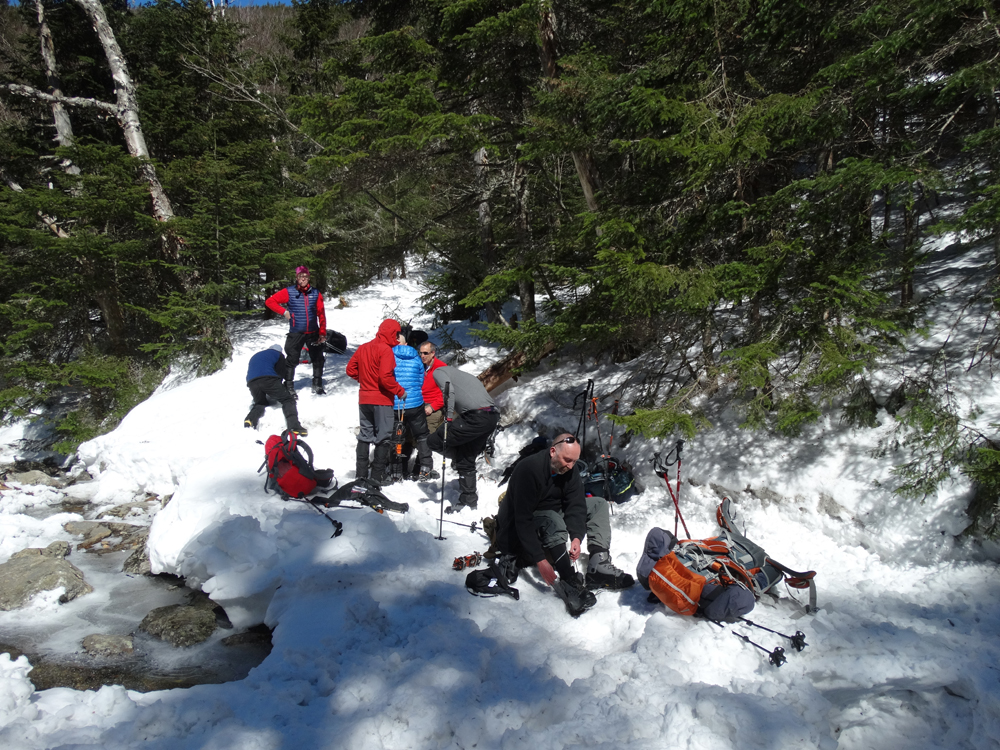 Crampon time. Grimmy looking brave, noble, and super at the back while Jim works on his crampons. In the foreground, Mick has bigger problems. Photo courtesy Nick Thomson

A break in the trees gives a first look at the top (Washington just out of sight to the left). Photo courtesy Ryan Grimard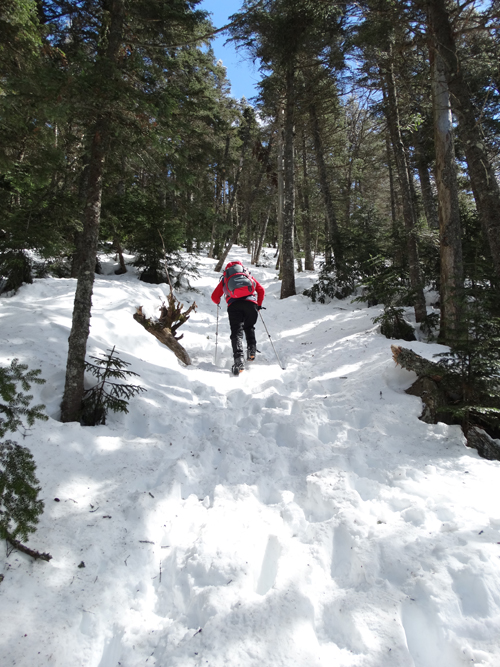 The angle of the trees (and the climber) show the gradient. Photo courtesy Nick Thomson A rare sighting of Jim, with Grimmy paying attention and RT not so much. Photo by BG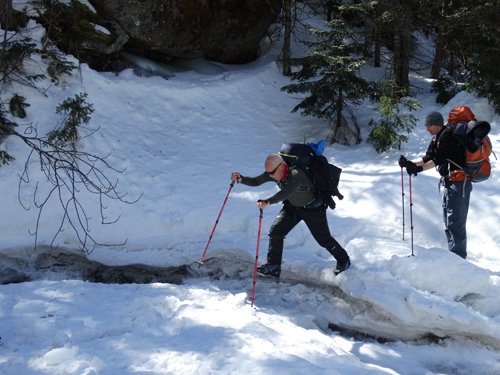 RT stream-jumping, Ryan measuring up for his turn. How far we have come. Photos courtesy Nick Thomson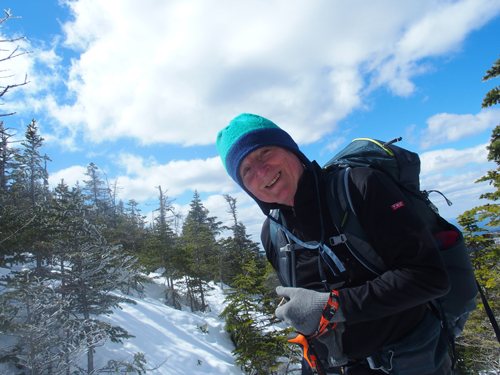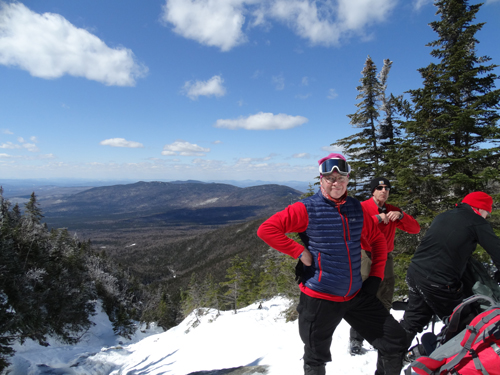 Brian lovin' life. Photo courtesy Mick Lemmerman Grimmy looking brave, noble, and super. Again. Photo courtesy Nick Thomson

Adam waiting as Mick finally rounds the corner to the last rest stop before tree line. Photo courtesy Andy Grimshaw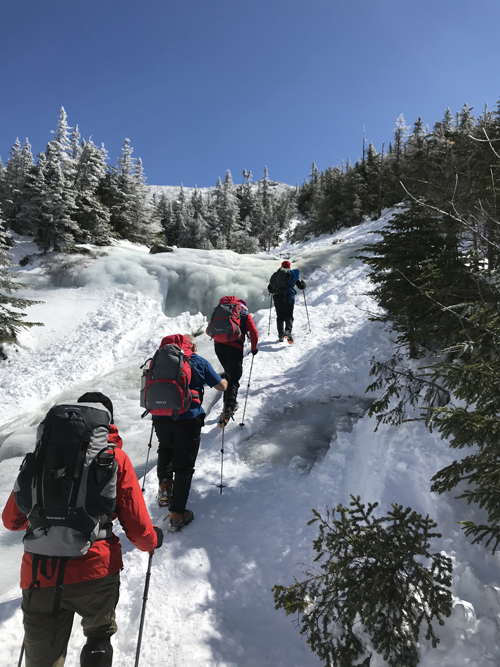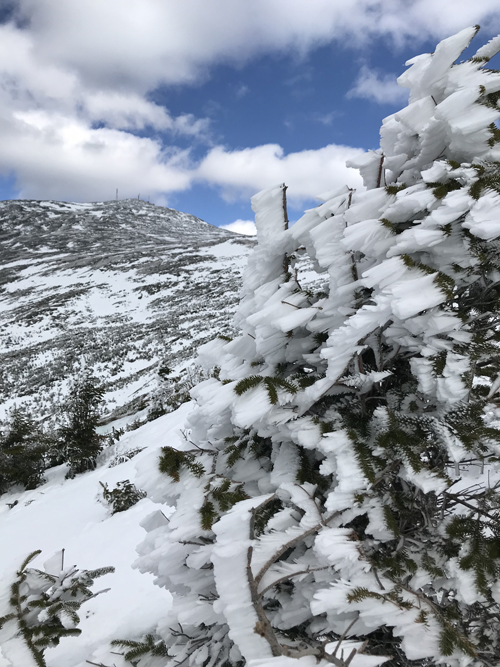 Adam, Grim, Nick (in shirt sleeves) and Mark beside a frozen stream. Hoar frosted tree with Washington in the background. Photos courtesy Ryan Grimard

Adam gazes at the frost line. Photo courtesy Nick Thomson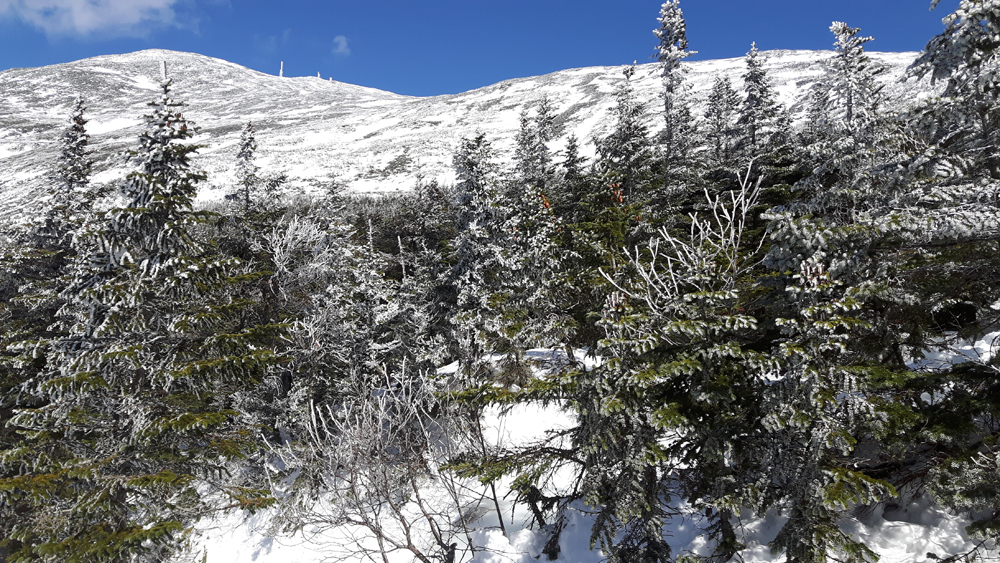 We moved on and up. Several of us were very happy with the pace, and all of us were way more interested in enjoying the moment and getting everyone home than they were in pressing on, so spirits were high, and patience was endless. As usual, as it got later and higher, the crowds thinned out noticably. Eventually Jim took Mick's pack, and when we next caught up with the front runners, he spread the contents of the pack around to anyone with space. We moved on and up. The frost on the trees and the clear skies again reminded me of 2016, but the temperature did not. The squeaking of the super-cold snow was replaced by Adam and Nick's overheating concerns, which they could do little about without taking their boots off, which no one was prepared to contemplate.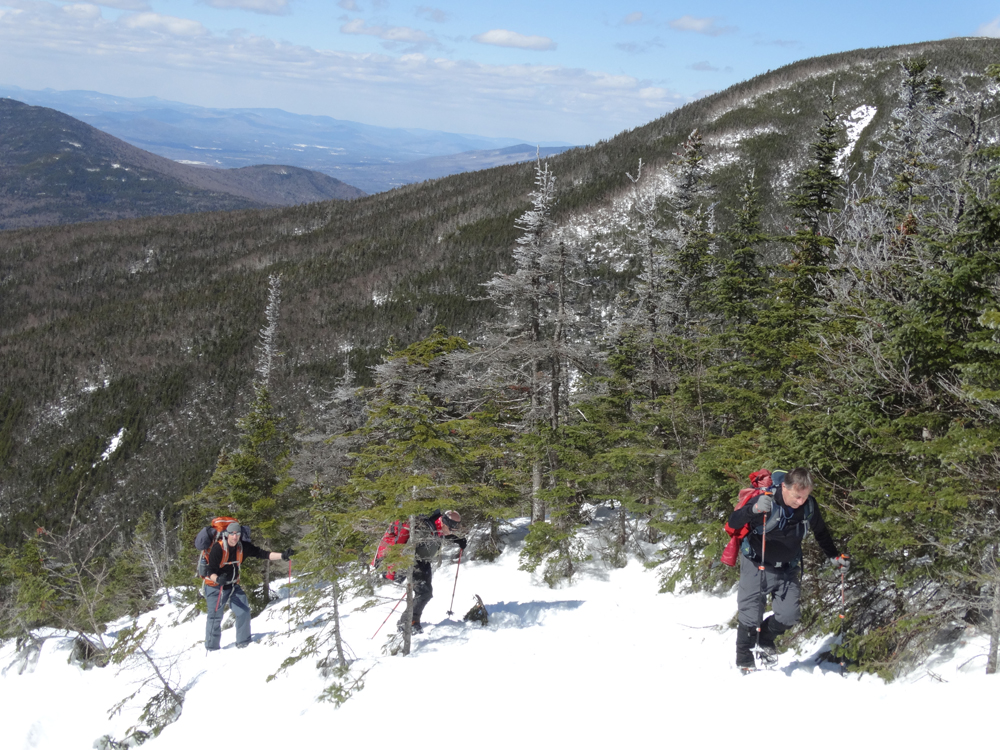 Tail-enders Brian, RT, and Ryan approaching the last rest stop before breaking the tree line. Photo courtesy Nick Thomson

Front-runners push for the ridge. Lakes of the Clouds AMC hut is just beyond the outcrop top right. Photo courtesy Ryan Grimard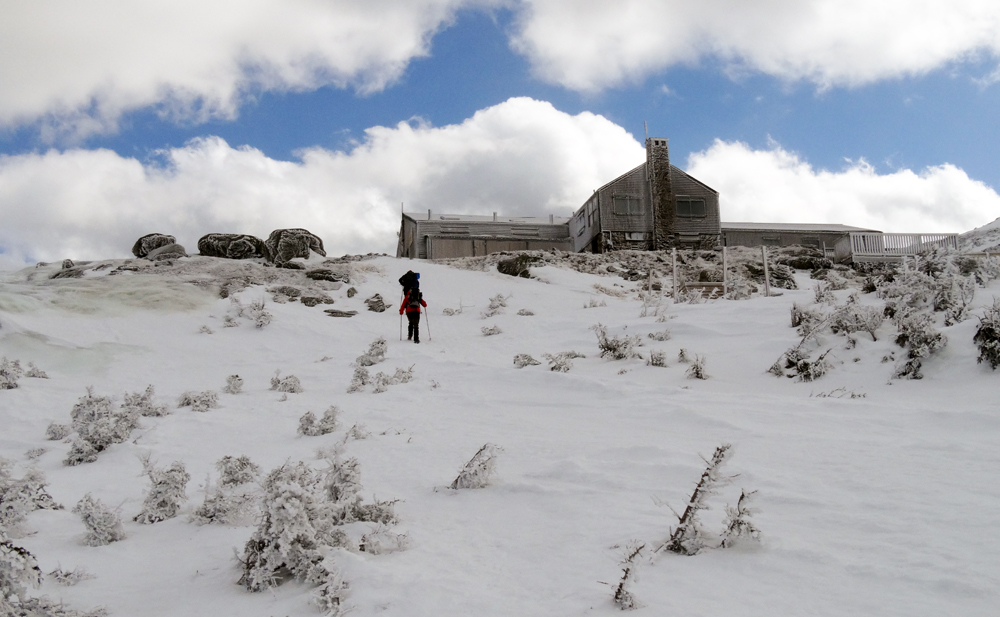 Lakes of the Clouds Hut. End of the line on BG and RT's 2016 attempt. Photo courtesy Nick Thomson
As predicted, as we broke treeline the temperature dropped to something comfortably cooler, around 10°F (-12°C) and also as predicted, the wind was (temporarily) a non-problem. The tail-markers caught up with the pack at the hut, where the front-runners had had fun in the snow while they waited.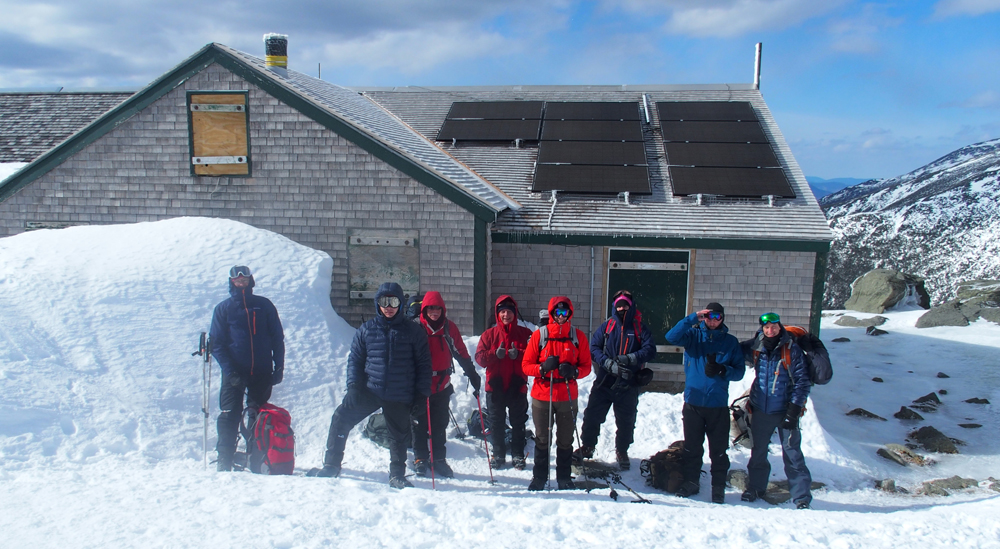 The gang. L-R: Andy, Adam, RT, Brian, Mark, Nick, Mick, Ryan. Photo courtesy Mick Lemmerman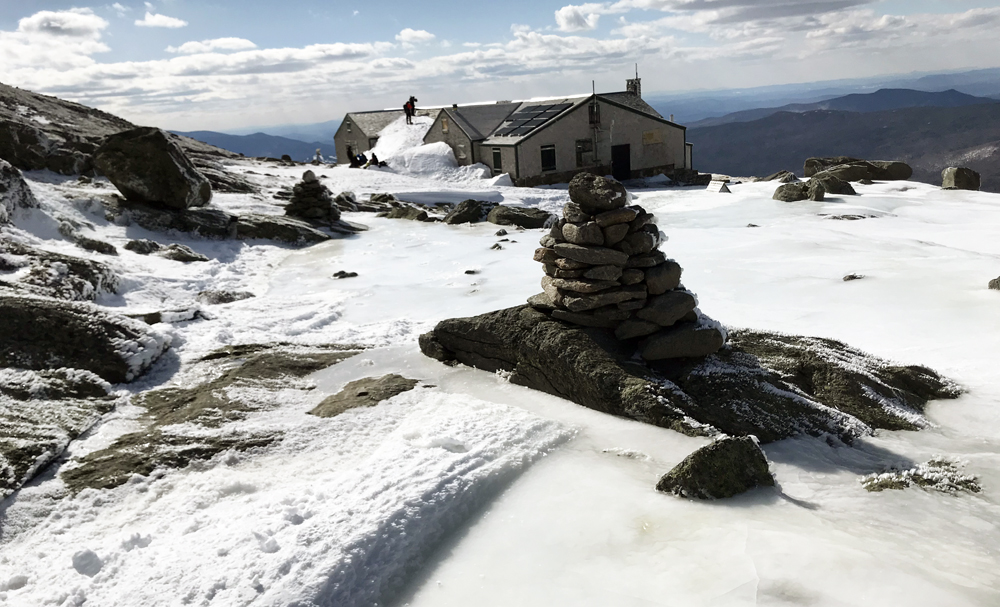 Lakes of The Clouds entrance is under the snow drift currently providing easy access to the roof. Photo courtesy Ryan Grimard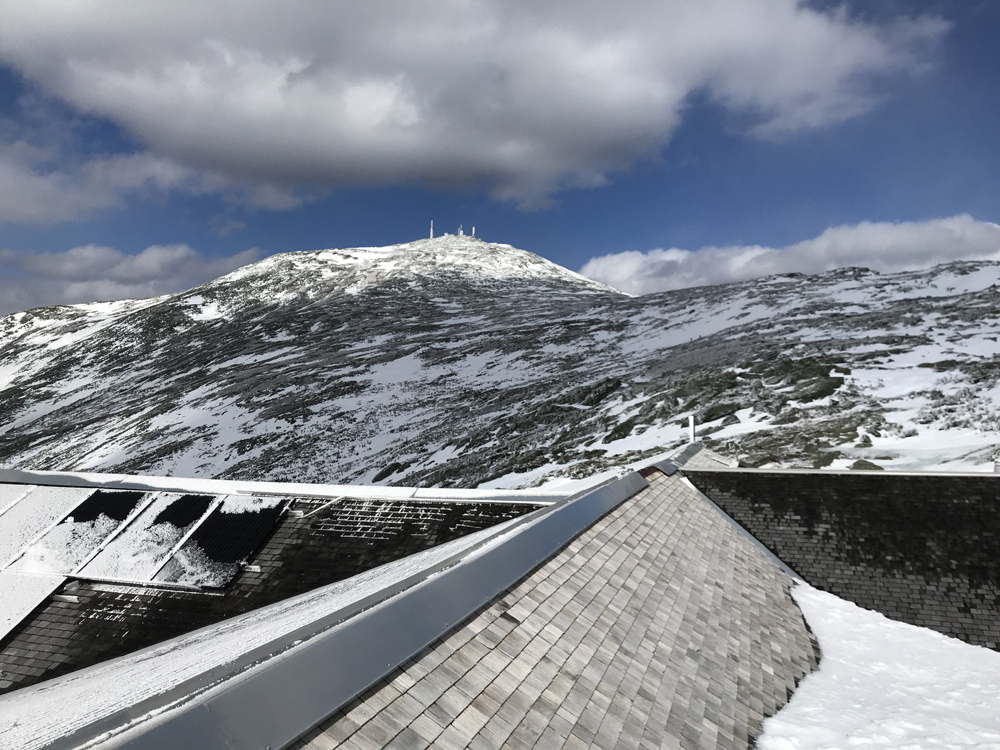 Roof top. (The view from the other end of the previous shot.) Photo courtesy Ryan Grimard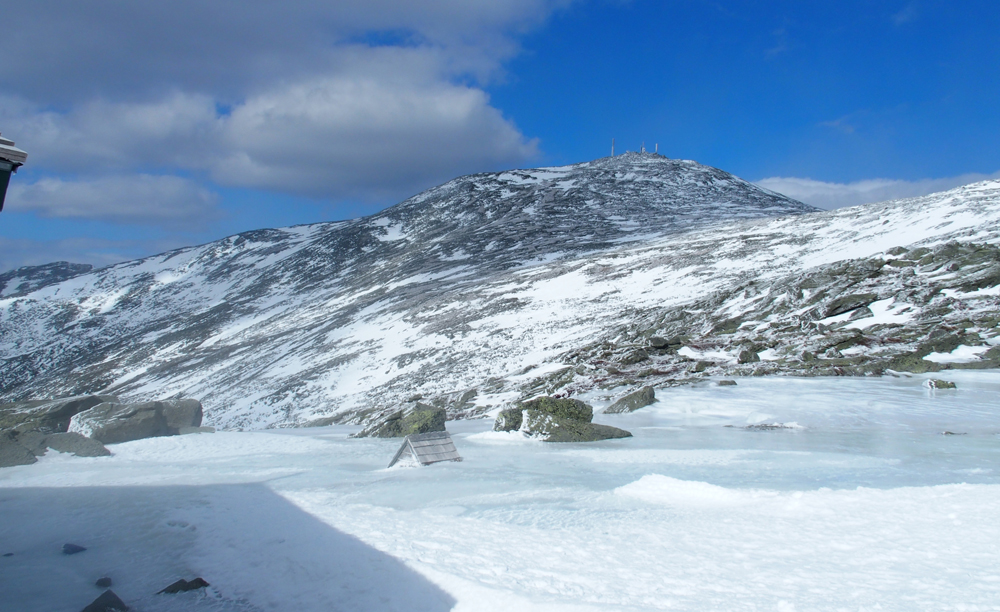 Hut to our back, the view to the summit. Photo courtesy Mick Lemmerman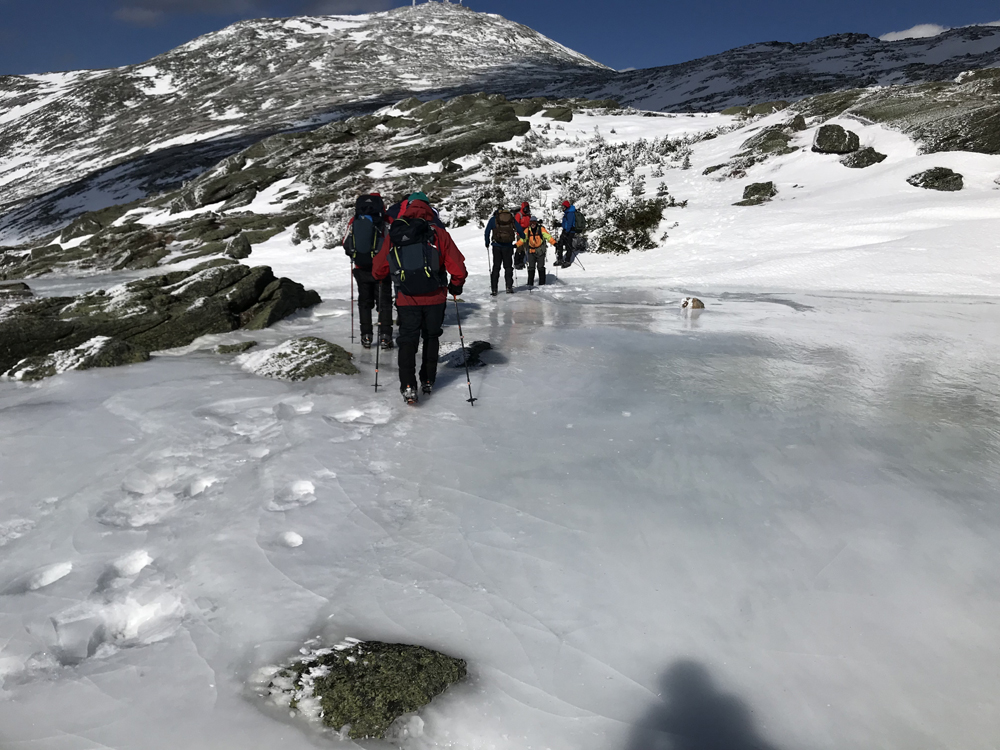 One of the scarier moments. As the footprints show, the lake ice could barely support us and there was slush (and then water) underneath. Photo courtesy Ryan Grimard
With the goal now firmly in our grasp and our sights, and Mick still plodding on, we set off again, starting with a scary crossing of the Lakes with the ice giving way underfoot getting several boots wet (quite deep enough thank you). We passed the poignantly broken sign warning of the mortal dangers of passing this point in bad weather, and clambered up the rock and ice trail towards the top. This is my favorite part of the trail, above the tree line, fabulous views, mostly ice instead of mostly snow. With crampons on, ice is your friend: solid, reliable, good grip. Snow is more treacherous. You never know if it will support your weight, or allow you to posthole, sinking in up to your ankle, or knee, or occassionally even your thigh. We made one or two snow crossings, but mostly it was just rock and ice. We stopped to try to tie down Nick's windproof pants which were shredded so badly they were flapping in the wind.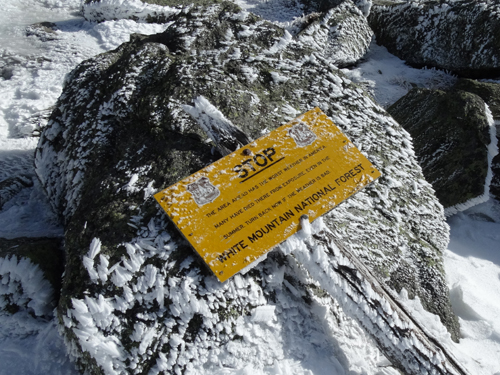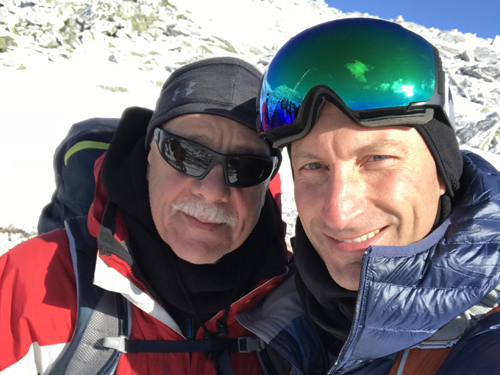 "STOP. The area ahead has the worst weather in America. Many have died there from exposure. Even in the summer turn back now if the weather is bad." RT and RG laugh in the face of such threats. But only because Jim says it is okay. Photos courtesy Nick Thomson (left) and Ryan Grimard (right)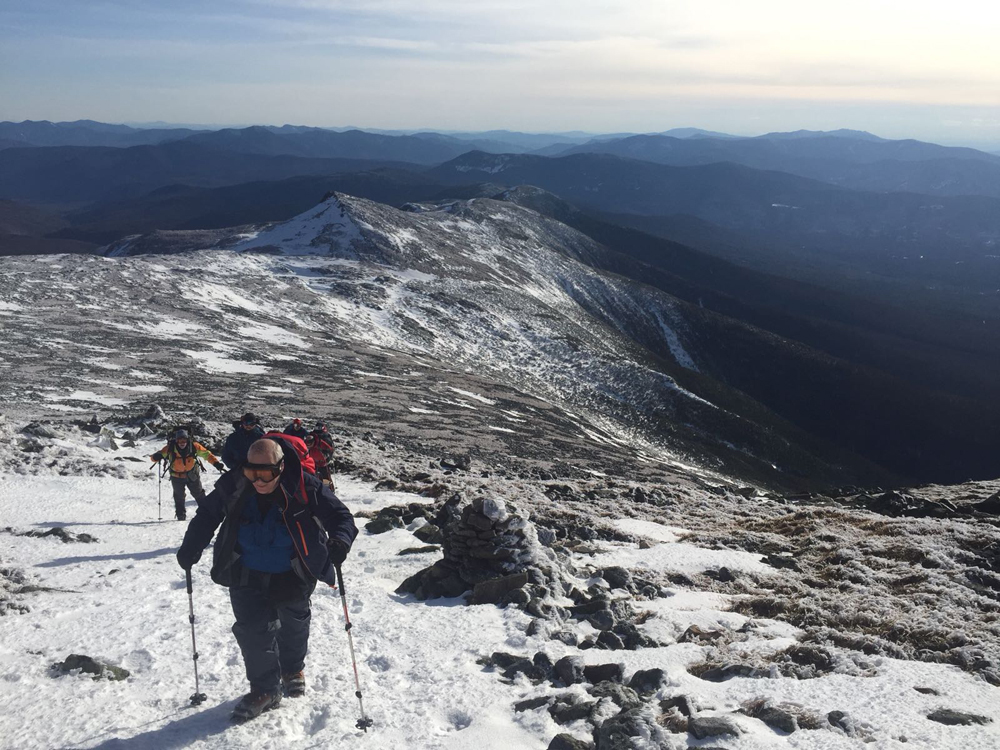 Spectacular view south along the Presidential Range ridge line. Nestled under the first peak (Mt Munro) is Lakes of The Clouds hut. Photo courtesy Mark Gretton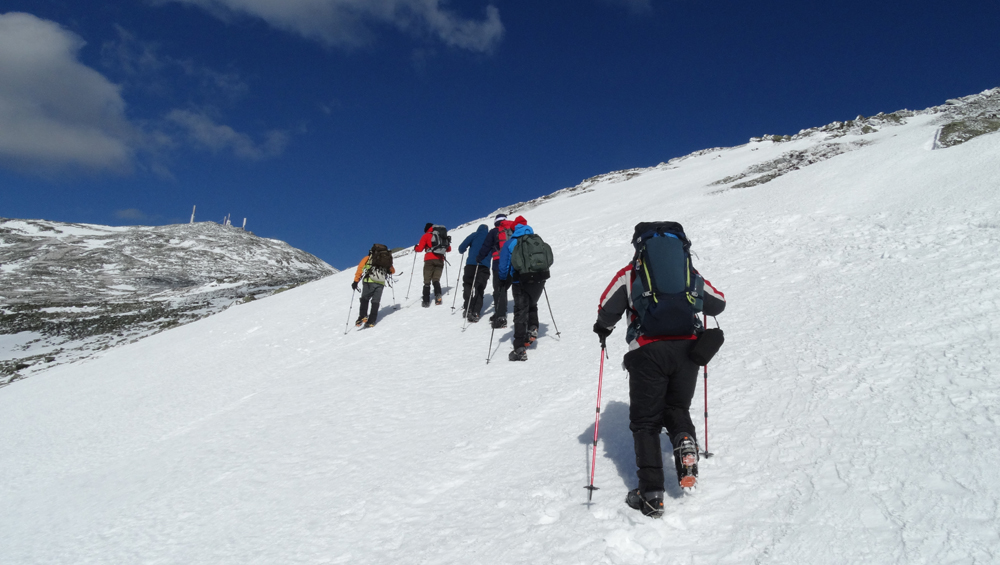 I don't know why, I just love this one. Perhaps because it is the sort of shot I've seen other people in, never dreaming I might do it myself. Photo courtesy Nick Thomson
As we were approaching the summit, a group of hikers started to come by on their way down. They seemed a little unsure of their direction, and Jim quizzed them. It was after 6pm already, several hours after we had planned to summit, and only an hour or so before sundown. It seemed crazy that they had to get all the way down, but they had no choice: the only people who the obervatory would let in was Jim and the eight of us. Worse, as Jim feared, they were on the wrong side of the mountain. They needed to return to the summit and then take a different path down the other side, losing them the best part of another 30 minutes including the time they already wasted coming down our side. Some of them looked very tired already. It made me even more happy that we were home and dry at the top, only half way for everyone else. Another parallel with our priviledged crater stay on Kilimanjaro's summit while everyone else endured a15 hour day to summit and get back down to camp in one day.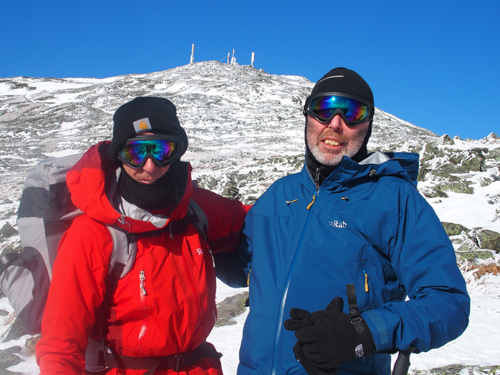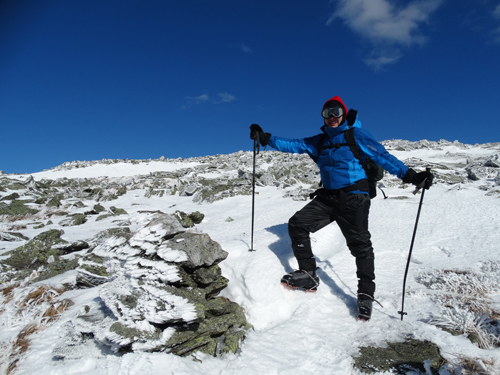 Mick and Mark and the summit. Photo courtesy Mick Lemmerman Adam. "Look ma, I'm on top of the world!" Photo courtesy Nick Thomson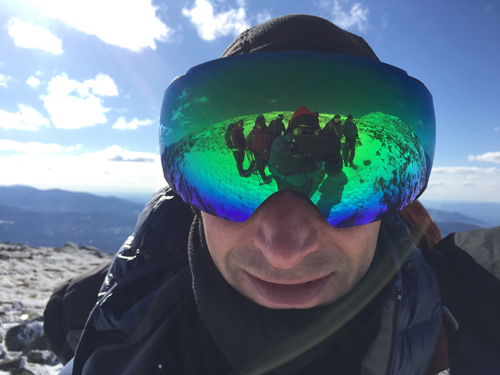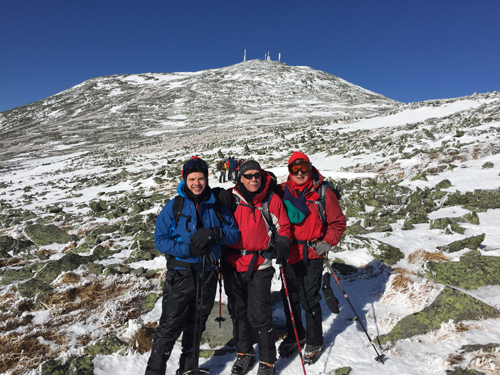 Classic Adam shot of Ryan, who else? Photo courtesy Adam Thomson Adam, RT, BG. The rest whispering something behind our backs. Photo courtesy Adam Thomson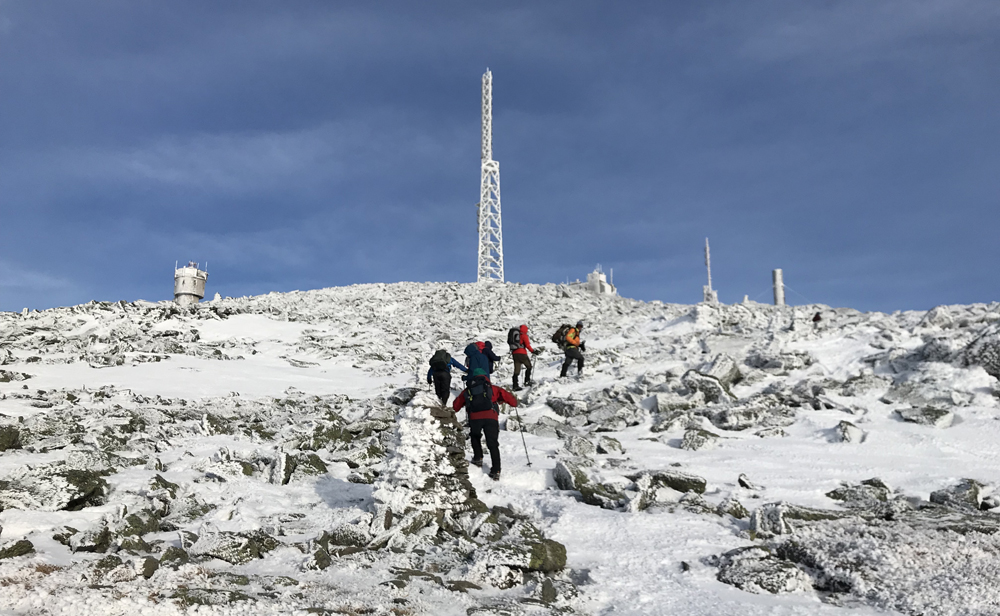 On the brink or on the moon. Photo courtesy Ryan Grimard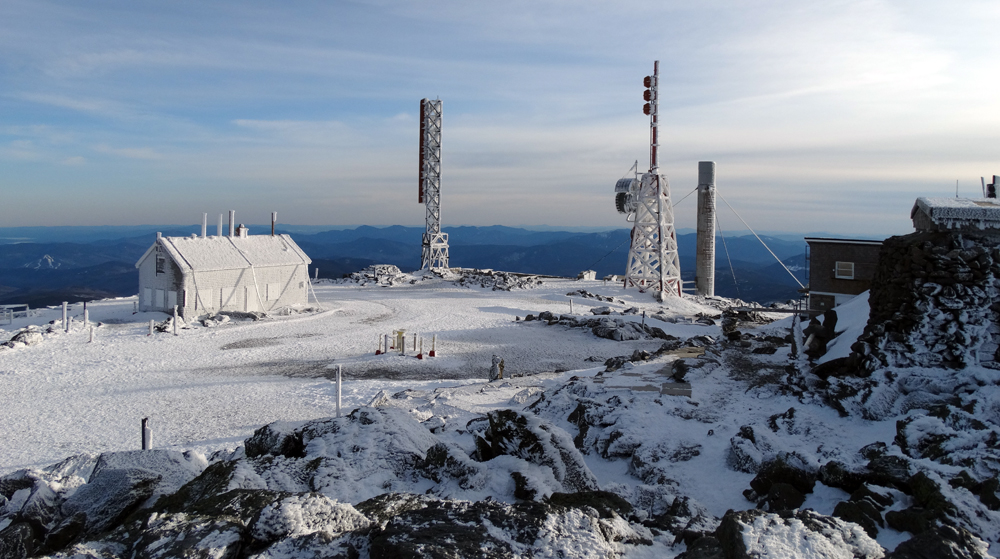 Summit. Yes, those are chains holding down the roof of that building, and the building itself. Photo courtesy Nick Thomson
The observatory and tourist complex were exactly as I had hoped, just like the published photos of winter Washington. I was overwhelmingly relieved, and proud, especially of Mick, who had pushed himself so hard all day, and it was so, so, sweet to share the moment with such a large number of my most cherished and respected peeps. What a treat.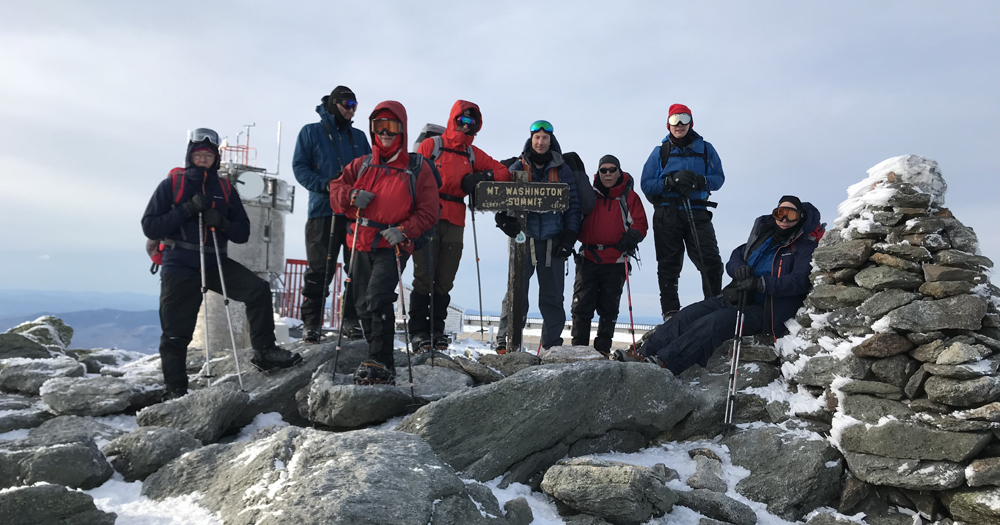 L-R: Grim, Mick, BG,Mark, Ryan, RT, Adam, Nick. Photo courtesy Ryan Grimard
After a brief stop at the summit itself, which somehow always feels like a bit of a sham, a small additional lump conveniently located where it can accommodate wheelchair access, we dropped down to the secret door to the observatory. One passes under an arch of girders leading up to the door, which looked uncharacteristically artistic, but which we were somewhat shaken to learn later, was a life preserver. The hoar frost we could see building up on all the surfaces needs to be chipped off the instruments, especially to prevent clogging of the pitot tubes that measure wind velocity, so in storms the scientists come through the door out into the storm on an hourly basis. Fairly regularly, under just such conditions, sheets of ice that can reach the size of a car break off and fly right by the door. The archway gives the scientists a few seconds of protection by smashing the car into pieces small enough that their helmets can cope. After that they have time to see them coming.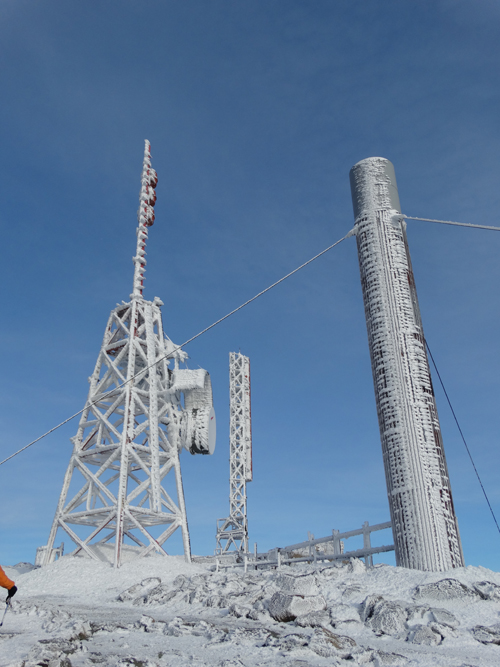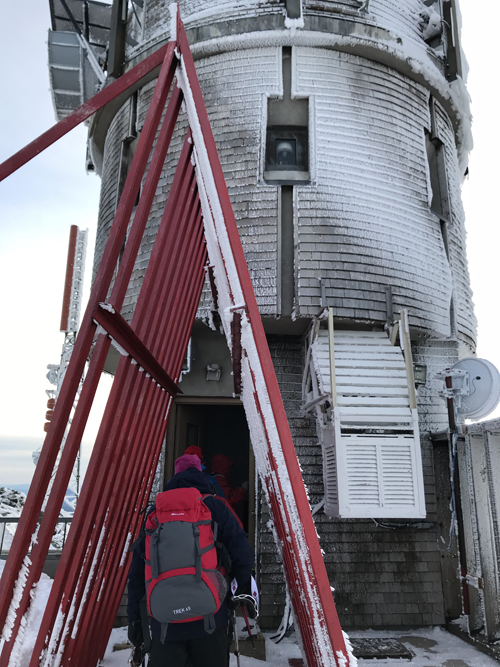 50 yds to go. Photo courtesy Nick Thomson Ice breaker protecting secret door to Observatory. Photo courtesy Ryan Grimard

Once through the arch, and into the airlock, a spiral staircase took us down to the observatory station itself, and later down another flight to their living quarters. First though we had to creep through the station as quietly as possible in case they were were doing a live broadcast, and into the back of the main visitor section, now of course closed up for the winter. In this vast cavern of a room tables were lined up, each with only one chair, like a college examination room. Each of us had a table where we could strip off most of our layers. Jim: "put your pj's on (if you have them)." Then armed with just our sleeping bags and toiletries, we crept back through the station and down the airlock silo spiral staircase to the living quarters.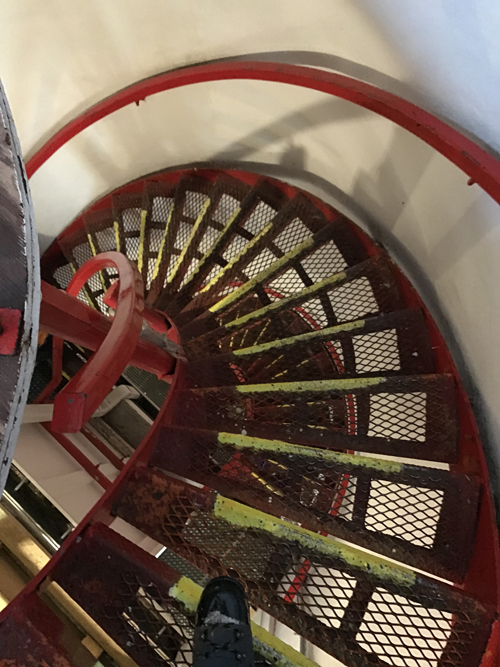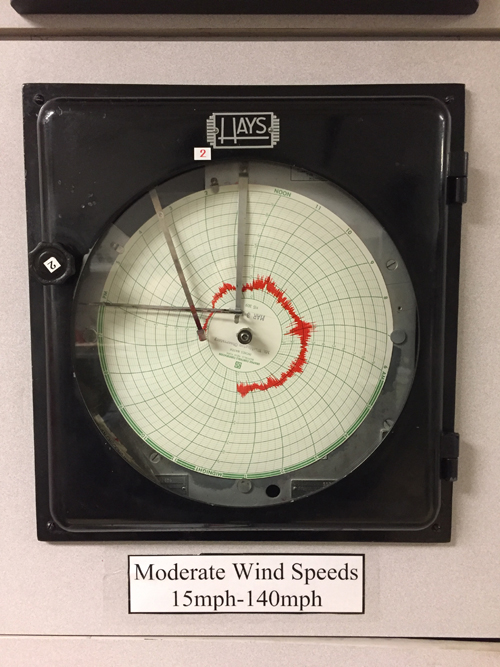 The spiral stair case. Warmer than outside, and a permanent smell of home cooking. "Moderate winds up to140mph" Only on Mt Washington.
Photo courtesy Ryan Grimard . . Photo courtesy Adam Thomson
I had a palpable sense of being in some sort of grunge science-fiction movie. Acutely aware of the isolation in an extremely hostile world (the storm was picking up and we were five or six hours from the next warm, dry spot) and the industrial strength safety of the solid concrete building, the little oasis was homely, warm, and welcoming, with sofa-lined walls and a large bookcase full of fiction. And a TV of course.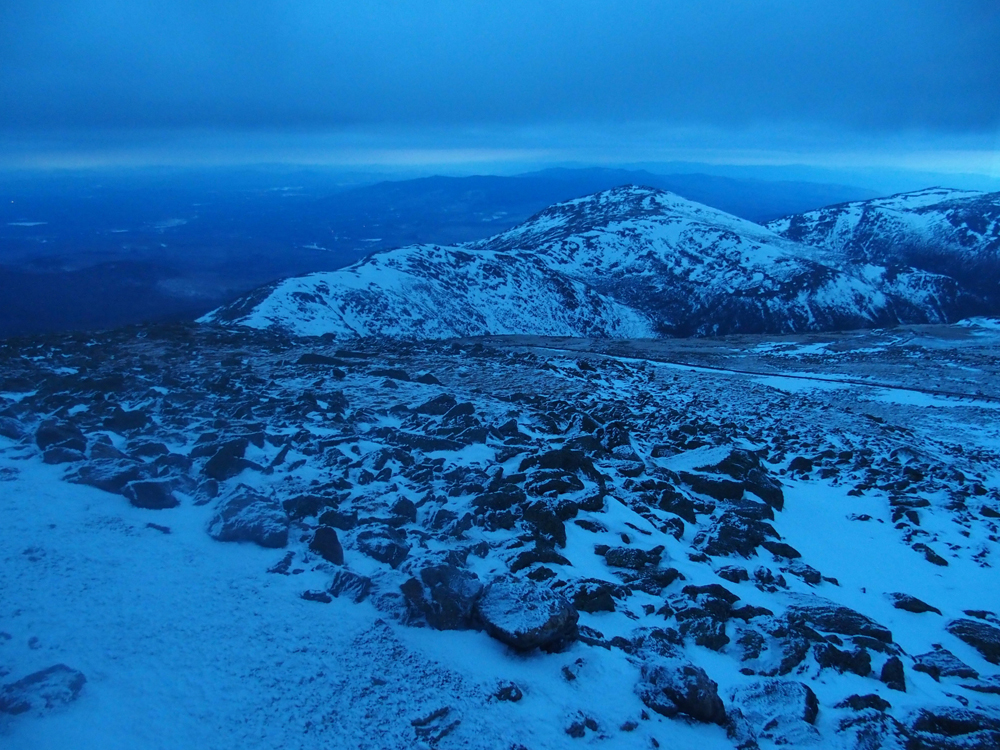 Home in the nick of time, the view north from the Observatory. The rest of the Presidential Range including Adams and Madison (the tall one). Photo courtesy Mick Lemmerman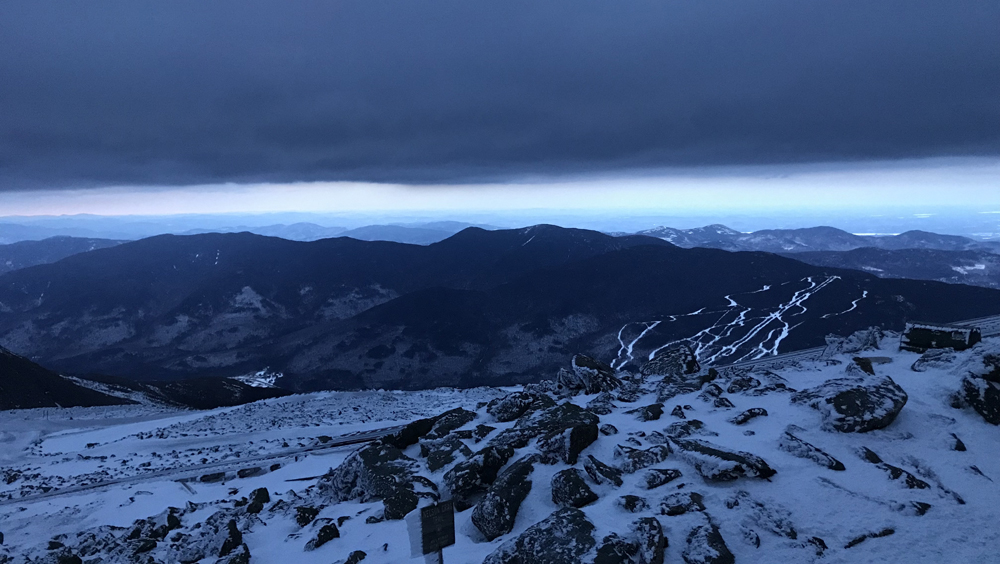 Storm coming in. Photo courtesy Ryan Grimard
We were late for supper, but since we were the only guests, the crew and their two volunteer den mothers had waited for us so it was served as soon as we entered the living quarters. Salad, some sort of African dish baked in a frying pan like a cross between an omlette and a meatloaf (delicious), rice, and a pan of mixed veg which I declined. Mick only got a few mouthfulls down before he declared he was not hungry and that instead he needed to go lie down. He slept for 12 hours. Jim said this was typical. When folks are really exhausted, the body focusses on keeping the blood supply going to the muscles, meaning that it does NOT send it to the stomach, which is what you need when eating. So you don't feel hungry. Adam and Caleb, two scientists, the two volunteers, and Jill the intern occupied the other end of the table. Mike the third scientist stayed at the helm. At this point the crew were surprisingly unchatty, but we did manage to get Adam talking. He was the classic nerd: despite his beard he looked about 12 years old, and his pre-pubescent squeaky voice didn't help. But like most / all nerds, as soon as you start to actually listen to what they are saying (and assuming you can actually keep up and understand it) it was very obvious, very quickly, that he was a master of his craft, and of course he loved everything about it, including his 12 on 12 off shifts, and 4 days here, 3 days home rotations.
The rest of us finished the meal including the brownies and cookies the ladies had made, and then it was time for our safety video and tour, followed by the highlight: a tour of the weather station itself. The video was home-made but nicely done, and featured Adam "The Weather Nerd" at one point, which was fun. Then we did the tour to get first hand experience of the emergency exits and how to open them. No joke, it had only been a couple of years since they'd had to do an overnight evacuation (I think they'd had a power failure or something). Once you are outside you have to descend. Waiting for help that doesn't show up could cost your life.
As we walked around we came across a guy who had not been at supper (and was not Mike). Apparently he was a State employee, and he was responsible for the buildings, generators and so on. He was utterly independent of the Observatory crew, and entirely on his own. "We had a big(!) Superbowl party and he came to that, but mostly he keeps to himself." I could not imagine anything so lonely. Being up there on my own would be one thing. Being on my own knowing that right next door there were people hanging out, talking, sharing chores, breaking bread together, would be ten times worse. Strokes and folks I guess.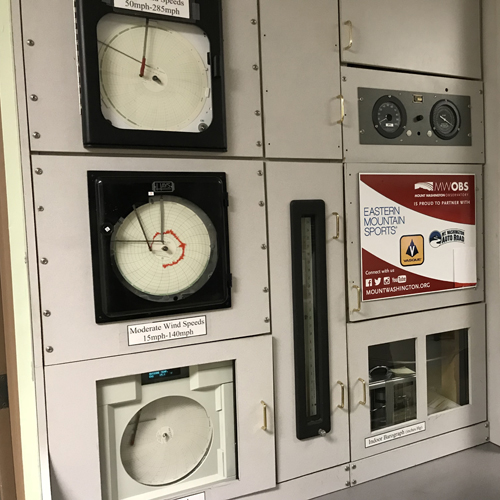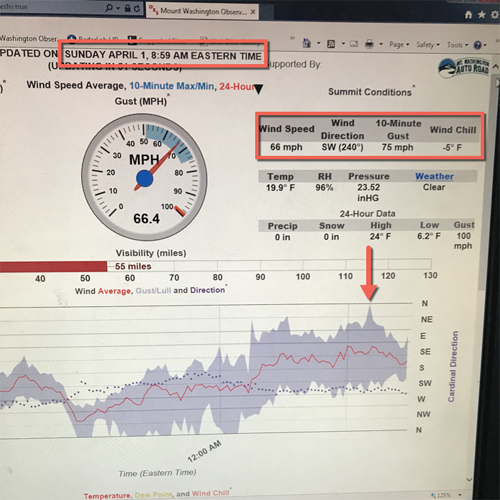 Instrument wall. Conditions as we set off, winds gusting to 75mph, and proof that around 7am one gust had hit 100mph.
Photos courtesy Ryan Grimard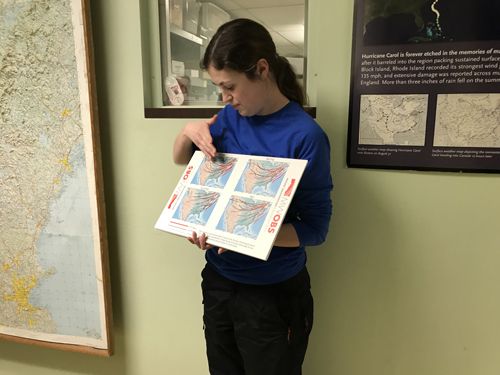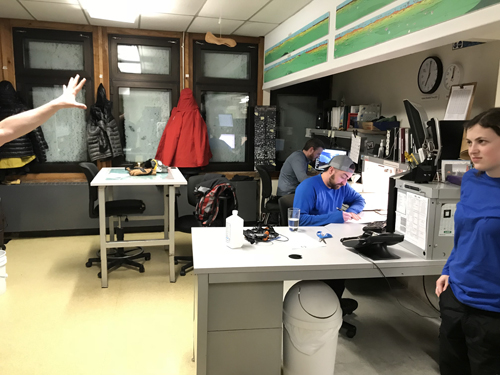 Jill demonstrates the perfect storm of Mt Washington weather. Jill, Caleb, Mike doing what they do. Photos courtesy Ryan Grimard
Jill the intern led us back up to the Observatory. It reminded me very much of a recording studio, and indeed TV weather segments were shot there on a regular basis. She showed us all the instruments, and we talked a little about the fact that they were mostly analog. The famous 24 hr circular recordings were converted to digital the following day, but decades worth of the paper discs were stored in boxes in the next room. One of the more interesting things we learned as she showed us the charts of the various prediction models was the fact that the models are improving so rapidly that today's four-day forecast is now as accurate as tomorrow's forecast was just ten years ago.
We learned how to read the digital screen showing current wind speed, recent highest gust speed and current average range, and then enjoyed checking out a duplicate screen conveniently situated between our bunks and the bathroom, so I for one checked it multiple times through the night.
Around 1am I decided it was worth returning to my disrobing table to collect my ear plugs, which meant passing through the observatory again, and of course there was Caleb the night guy. I spent a few minutes talking to him which is when I learned about the hourly trips outside on nights like this to bang the ice off the instruments (this despite the fact that they are mostly running too hot to touch). He was reminded that he needed to start wearing his helmet.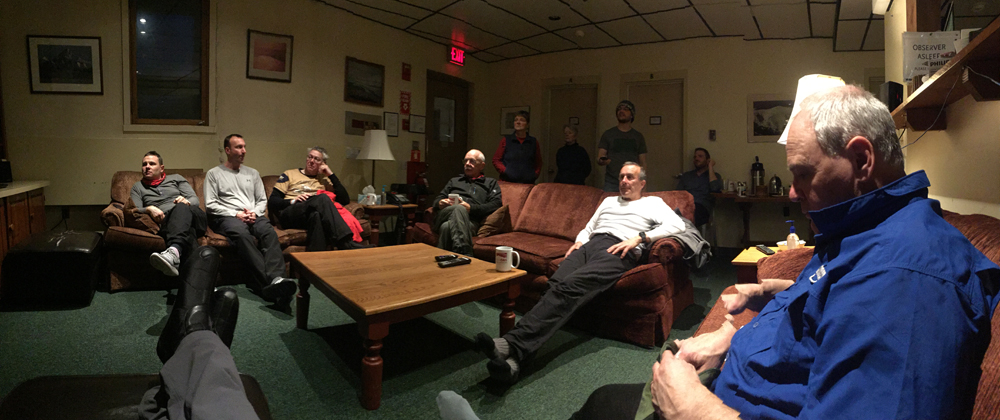 The restaurant (and lounge) at the end of the universe. Photo courtesy Brian Gourlie
Those who could stay awake (it was now well after 8pm) sat around on the sofas and shot the bull. One day as a young boy, I somehow discovered that in her youth my grandmother had been a tennis champion. Like all grandmothers, she was older than dirt, and it was impossible to imagine her dashing around the court smacking balls past her opponents. She was actually probably in her mid-fifties, considerably younger than I am today, but as we chatted about their 40+ years of AMC membership, it was just as difficult for me to imagine our two den mothers racing up and down Mt Washington. One had even met her husband on these trails, and the two couples had shared hundreds of wonderful days on these slopes. But imagining these friends so long ago passing by and stepping over exactly the same rocks, admiring the same views, stopping at the same vistas for a breather and a drink made me realize how important a role the timelessness and changelessness of the mountains played in my love for hiking. In the impatient and volatile world we have created for ourselves, it suddenly struck home as a major reason I find such peace taking a few days break in the wilderness in the company of my friends and family.
Jim promised to wake us at dawn for the sunrise, but I shrewdly calculated that although the sun could probably be relied upon to rise, our being able to witness it was considerably less likely.. However the folks who got up were rewarded with a trip out into 80-90mph winds and snapped some great video of themselves. Nice work lads.
Sunday 1 April 2018
The morning was basically a reversal of our entry. Breakfast of scrambled eggs, bacon, sausage, corn muffins, coffee and juice. And kumquats? "Someone bought them by accident. Thought they were grape tomatoes. It was quite a shock when we tried them I can tell you. Please eat as many as you can."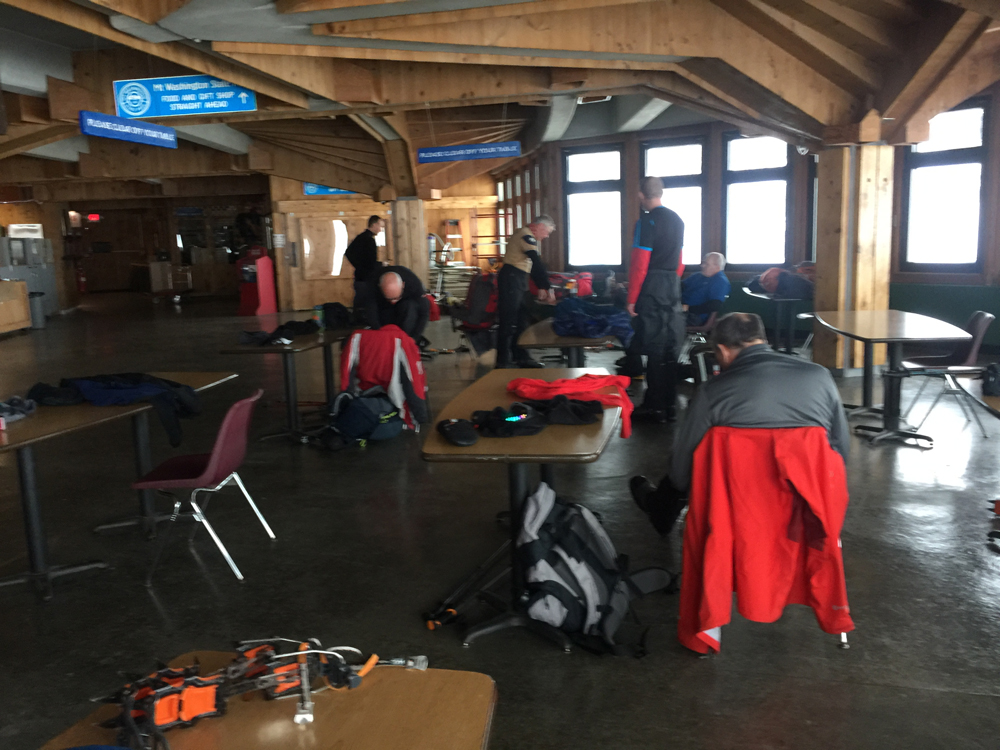 Not our best snap, but important to capture the disrobing room, so thank you for that BG. I can't tell if it evening or morning. It doesn't matter. Photo courtesy Brian Gourlie
We packed up our sleeping stuff, said our good-byes and returned to our tables. We taped up Nick's pants so he was basically sealed into them. Jim suggested that we take the Jewell path down, which might get us to the tree line a little quicker, but all I heard was "different route down." Sold. Excellent. We had a briefing about the weather outside: visibility about 50 ft so we needed to serious stick together, which amongst other things meant literally getting our ducks lined up and then staying in that order so you knew who was supposed to be in front of you, and who was supposed to be behind. And the wind. Still gusting above 70 mph, but we were all heavy enough that we were not in danger of being lifted off the ground (not kidding).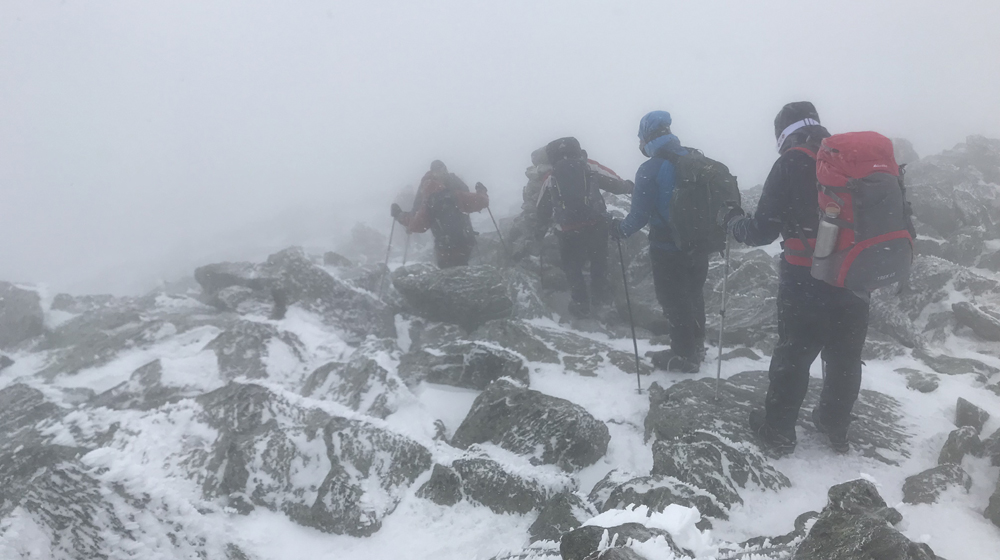 Edge of the world. Photo courtesy Ryan Grimard
Finally, those of us who had not made the trip up the observation tower at dawn took a trip over to the tower, clambered to the near top on the inside, and then admired the lack of view and most of the wind while a couple of folks climbed the last ten feet to the top where they tried to stand in the now 70-75mph wind without hanging on to the handrail. Mission accomplished, we returned to the main group and set off.

Jim shouting instructions on the next section. Hoar frost building up on us already gives the photos a strangely maxed out contrast effect. Photo courtesy Nick Thomson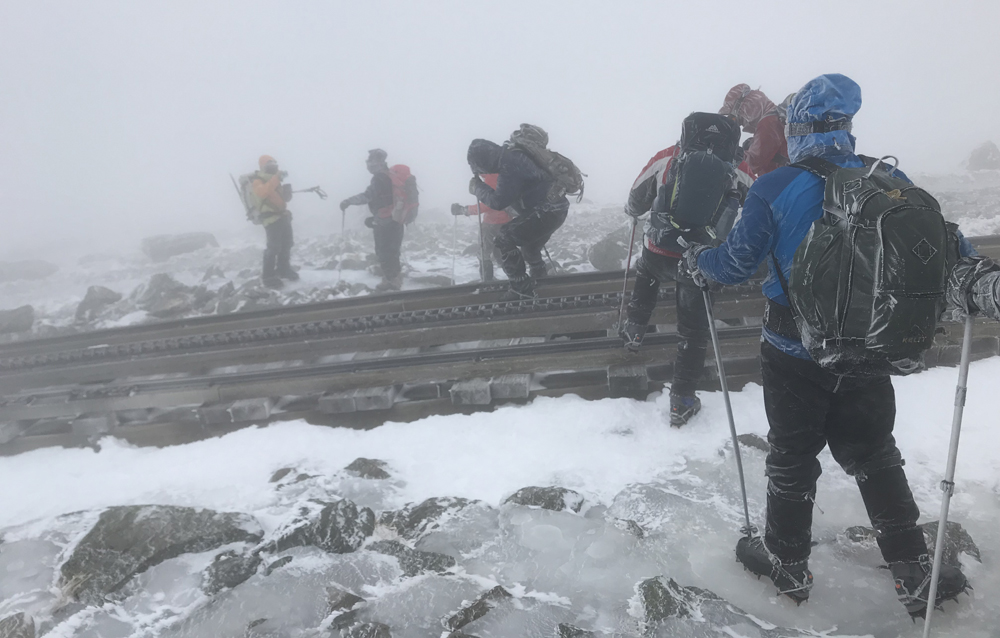 Crossing the cog railway. Photo courtesy Ryan Grimard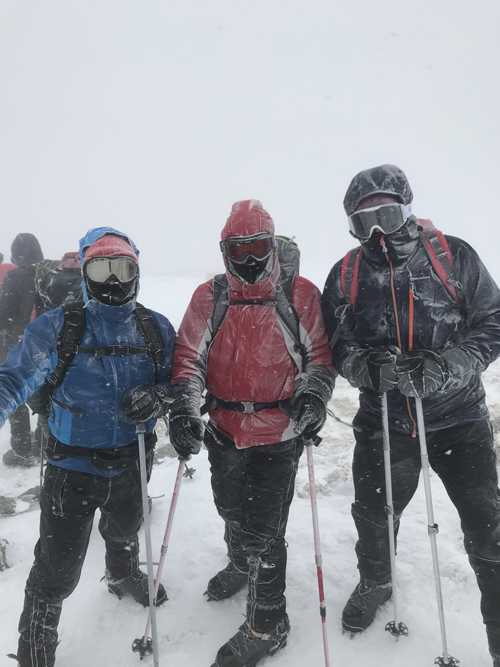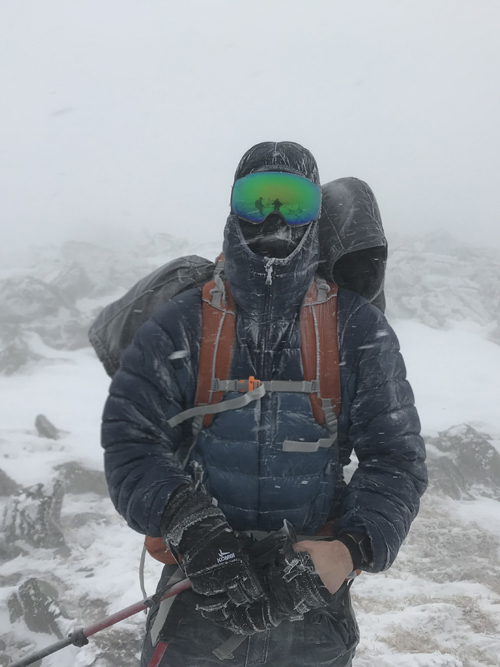 Adam, RT, Nick. Photo courtesy Ryan Grimard Ryan Photo courtesy Ryan Grimard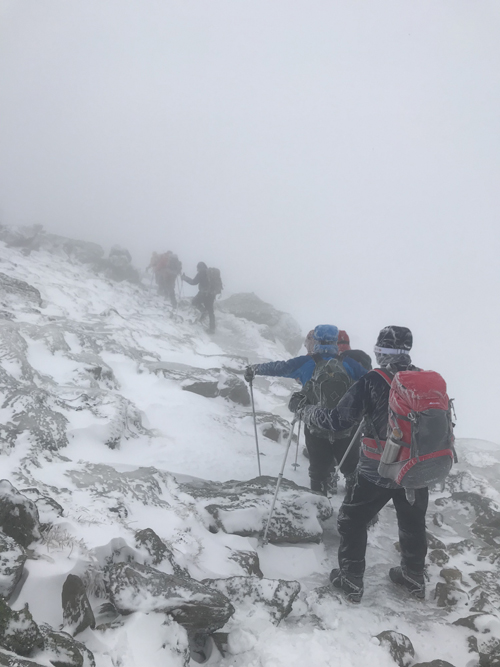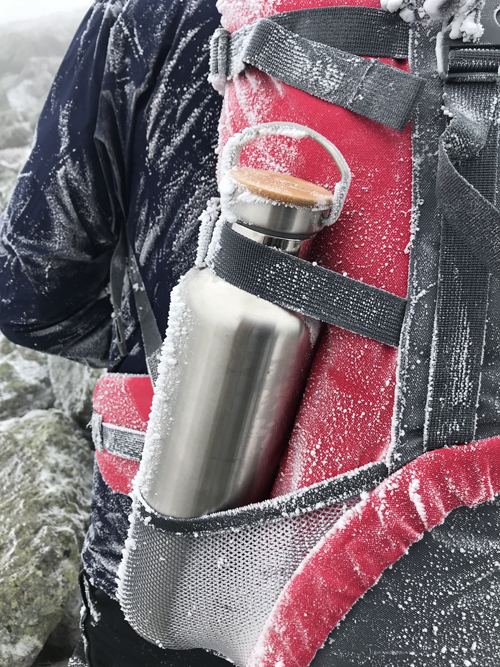 Disappearing again. Photo courtesy Ryan Grimard Why you need insulated bottles. Photo courtesy Ryan Grimard
We stopped often to make sure we were keeping together, and Jim tried to shout instructions on how to use our poles in sideways wind, or to warn us that the next section was going to be particularly bad. We loved it. The hoar frost started to build up on us adding drama to the pictures, but otherwise it was just a question of putting one foot in front of the other as Jim threaded a path ever downwards.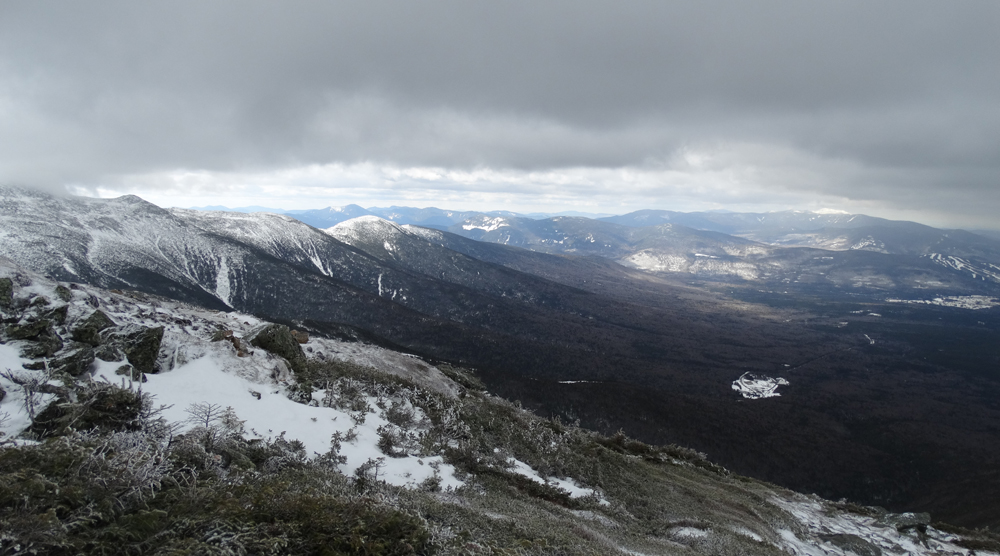 Cloud break. Photo courtesy Nick Thomso
Just as we getting close to the tree line, the clouds suddenly lifted, giving a spectacular view of the valley below. A horizontal line of cloud cover above us marked the storm we had now descended under. Almost as quickly clouds billowed up from below and streamed by giving a visual indication of the wind speed, and a few minutes after that we reached the trees.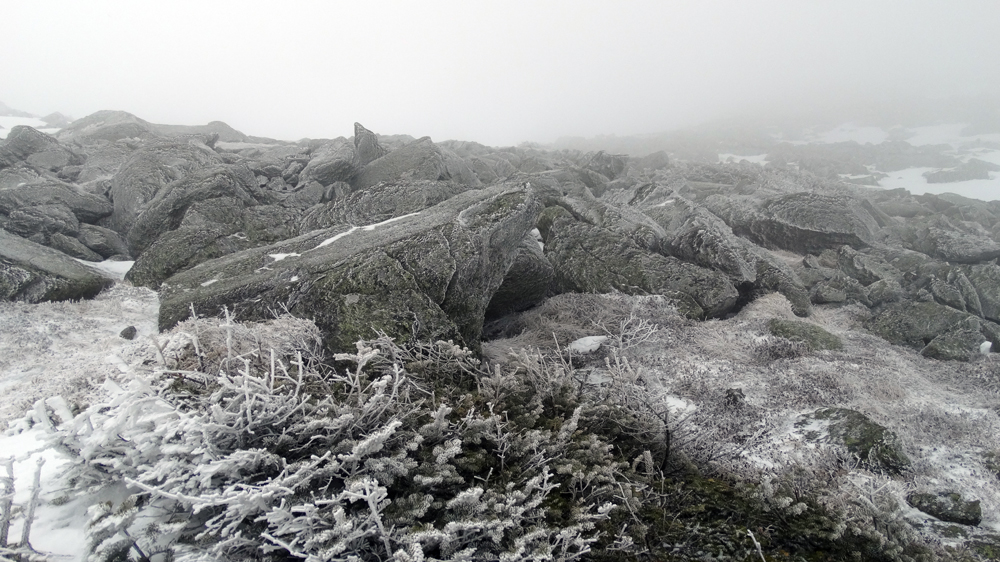 Art for art's sake. Photo courtesy Nick Thomson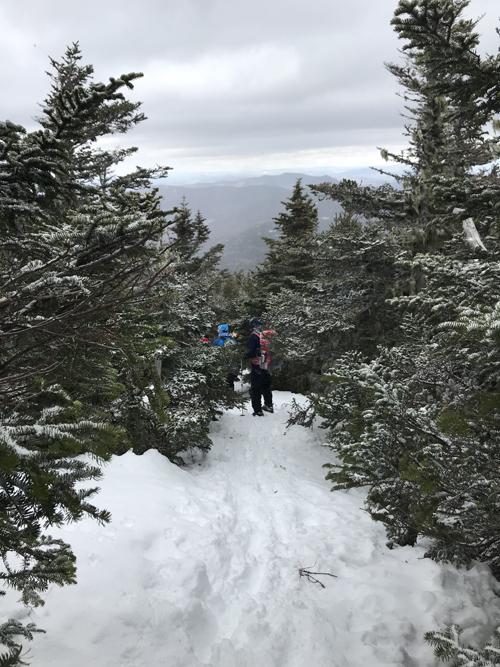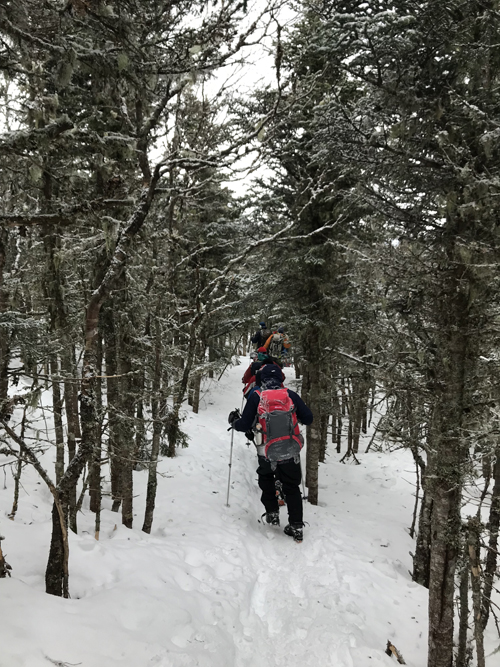 Random tree-line shots, just to show the different conditions. And because I love the first few minutes of single track through the pines. Photos courtesy Ryan Grimard
As soon as we got below the tree line we found a reasonable rest stop and Nick stripped to the waist, and had someone literally cut him out of his rainpants. Then he produced a ziplock bag out of his pocket and offered everyone hot sausages. Very pleased with himself, having established that what we'd left on the table at breakfast would probably be thrown away, instead he'd trousered them and protected them between two handwarmers. Later it transpired that the ladies had also given Adam the remaining kumquats.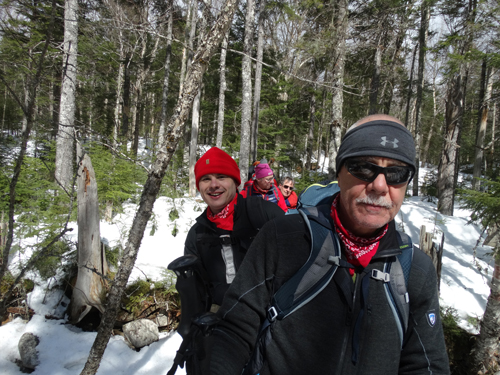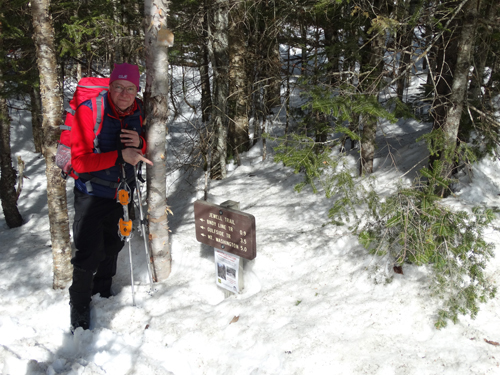 Home straight. RT, AGT, Grimmy, BG. Ever-smiling Grimmy. Now with good reason. Mt Washington 5 miles back. Parking lot 50 yds in front. Photos courtesy Nick Thomson
It was now all done but the shouting, and the banter clearly picked up. But as usual the last mile or two back to the car seem to take forever and as it wore on, folks quietened down again. Nick was in a t-shirt, his boots fully unlaced and flapping, but it was Mick who took a face plant that was so dramatic that you could see the imprint of his schnoz in the snow. Jim showed him how to roll over and get on his feet again without losing his poles or his dignity. All good things do eventually end however, and the trail tipped us out onto the road right opposite the parking lot. Mission accomplished.