The great room, from the kitchen. Note the snow on the floor. The end window is only cut through for the bottom 3/4. You can see the top beam where the final cut will be (basically the half moon is the bit they haven't cut out. The reason it's not cut is an attempt (I would have thought futile) to keep the wind out.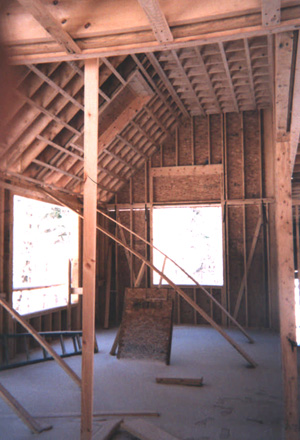 Standing in the great room, looking up at the master bedroom. On this floor, the gap on the left is where the fireplace will be, and behind that is the door through to the utility room (and then the garage, which is where the daylight is coming from).
The muslim on the bridge is Claudia. It's 5 or 10 degrees above freezing, but it is unbelievably cold inside the building. It saps the heat right out of you so quickly we only spend 10 or 15 minutes inside each visit.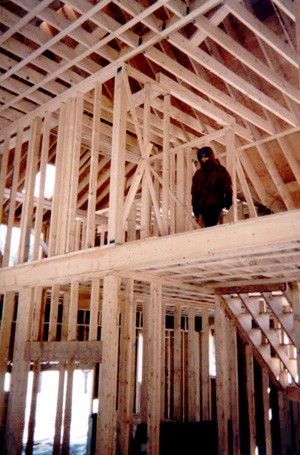 Details: In particular, the master bedroom is now divided into the bath, closet and bedroom. With no hardware, the bathroom looks enormous. Claudia says it feels like a bathroom with a bedrom attached, rather than the other way around.