Reeth to Richmond-Thursday 27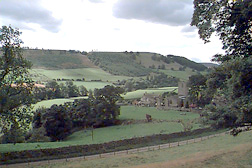 Big day today: Adam and I need to return to York to collect his exam results. They are better than even he expected. Thank goodness. He's grinning so hard he's shaking when he gets back in the car. I'm very proud. His worst mark is the same as the best I achieved when I passed that point. I went into York with Rachel while Adam sorted out his friends and his mother, and we bought him a new back pack in celebration.
It's only ten or so miles today, and the party is split in two. My mother joins Claudia, Wayne, Alexis and Marty and they set off at the usual time, but Adam and I do not start until 1:30 due to our detour to York. A very domesticated landscape, and flat, easy walking. The best weather so far brings out butterflies. We see another line of executed moles hanging from barbed-wire spikes. You don't have to look if you don't want to. Why are they always right where we need to pass? A warning as to the fate of previous trespassers?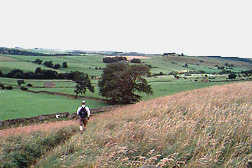 This time we pass pheasant. Even more of them. We must see 50 birds. Mother thinks there must be a hatchery nearby for them to be in such numbers, and so close together.
Adam and I are passed by a man accompanied by a young Labrador. We know he's a Coast to Coaster, because he's carrying "the map." Made by the Ordinance Survey (Britain's cartographers are in the Army), it is distinctive because it is a ribbon about 6 inches wide (about a mile either side of the Coast to Coast path) There are four strips on each side of the sheet, and two sheets cover the entire distance) Since no other map is in these narrow strips, you can spot it at 100 paces. Anyway, we pass him again, but only because he's stopped to allow the dog to frolic in a stream the path fords. It's not long before the Lab overtakes again, and a minute or so later he's beside us. Spotting my striped map he pauses to ask how we're doing. "Slower than you" Adam responds (he's in altogether different spirits this afternoon). Not only that, but our visitor set off from Keld, our previous morning's start.
We're spread over two B&B's again for the night. One of them is also a small restaurant. They've closed the restaurant to the public for the night so that we can take over the entire place. They've moved all the tables together in the center of the room, but they are circular tables, so it creates a sort of giant clover leaf, which works extremely well: we're all at the same table, but no one is at the end--anyone can talk to anyone. It is a special treat, and we can make as much noise as we like, and as Americans, we do.
Not one complaint from Adam today. A record. The new pack is obviously a help, but he's clearly extremely relieved about his results, as we all are.