Lovesome Hill to Osmotherly-Saturday 29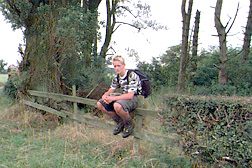 We've had another splendid night with the landlady catering dinner for us, and we have the dining room to ourselves. Highlight of the meal was watercress soup (fitting, given how much we'd seen that afternoon). Wayne declares the breakfast bacon to be the best we've had. Which is also fitting, because this is a pig farm.
Last of the flat country today--in fact we finish the day with a climb up the beginning of the North York Moor plateau. But first we must dice with death crossing the A19: a 4-lane highway with a median strip, but the cars are doing 80 miles an hour, and we're carrying packs, and unlike previous crossings there's no bridge over or under. We stop in a pub just before the climb and exchange a pint for the use of their plumbing facilities.

Alexis has discovered blackberries (black raspberries). Amazing for a girl who (true to her Italian blood?) likes to suck her coffee through sugar cubes. As the days go by, we see more and more of them, and they get bigger and fatter.
We finally get off the flat. I count 30 pheasant in a quarter-acre clearing.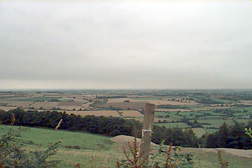 At the top, we take one last look back at the previous two days walk, then break away from the trail to head down to the Youth Hostel. And run into a unique problem: we walk off the edge of the world. This is a detour to get to the Youth Hostel and in addition the backup map we're carrying has it's bottom edge at exactly the same point. We have no map to follow. We're not exactly lost, but we surely feel like it. Two young women (students) appear to be in the same predicament--they cannot help. We finally meet some locals and are able to ask them. The women follow us to the hostel.
David, my friend from college days, has booked into a B&B in Osmotherley so that he can spend the evening with us, and walk tomorrow. He's come with Julie, his new wife-to-be. her son Billy, who we meet for the first time, and Harry, his own son. It is wonderful to see them.
Our evening meal is, however, a mixed bag. We leave half the party having cocktails in the village while David, Claudia and I try to get the laundry under control, which we do, but not without spending twice the amount of time we'd predicted. By then the preferred watering hole is fully booked and the alternative is clearly second best. Once more, the decor, coupled with the attitude of the bardragon, are accurate omens for the meal. Alexis and Marty's differences finally break out into a physical confrontation, and Wayne whisks them outside and umpires the match.