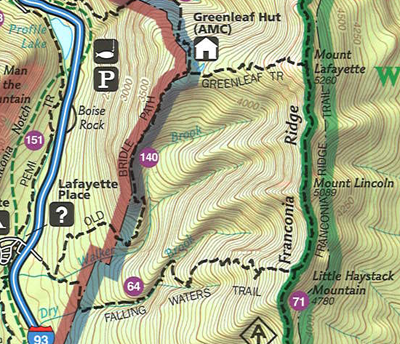 At the beginning of May 2015, my brother Nick shot across the pond for a flying four day trip. Given the decade or more since his last trip, and his contempt for all things more than 200 miles west of the Greenwich meridian, and the beer in particular, it was of vital importance that he learned some respect. What better then for a guy who's favorite form of quality time is walking, than a trip to the White Mountains? And what better hike for a first-timer than Lincoln-Lafayette? My good buddy Brian Gourlie signed up too, I'm delighted to report.
The map makes it look trivial. Park at Lafayette Place, up Falling Waters Trail (3.2 miles) make a left at the top, 1.7 miles along Franconia Ridge Trail, 1.1 miles down Greenleaf Trail to the hut, then 2.0 miles back down the Old Bridal path. Nick: "So it's 6 miles to the hut, and only 8 altogether. Why do we need a night stop at the hut?" RT: I calculate at least 7 and perhaps 9 hours to the hut, and we'll be tired. We'll be glad we are done. Plus finishing at lunchtime the following day gives us ample time to stop at a brew pub on the way home." Nick: "Beer I understand. Less than 1 mile per hour does not compute." BG: "It's only 3 miles to the top horizontally, but it's also 3000 feet vertically." Nick: "Wait. What?"
We'd never hiked this early in the season, but what could possibly go wrong? Well three things in particular.
| | |
| --- | --- |
| The trail crosses a stream half a dozen times. In the fall the stream is no problem, but swollen with snow runoff? Rumor has it there was still snow on the tops. Wet weather would suck in general, but if, as seems likely, it made the other two issues worse, it might prove too much for us lightweights. | |
| | |
| --- | --- |
| | Left:More streamwork. This was not a crossing, but is typical of the conditions when we did have to cross. It sometimes took some courage to leap (both feet off the ground at once) from one rock to another, especially if the landing zone was more or less underwater, but in the end we only got one wet foot each, and mercifully no electronics were harmed. Below: Snow. Above 3000 feet the snow rapidly became a serious obstacle. Note BG and RT further below, about to hit this early snow field. |
For a while we tried to skirt around the edges of the snow, which because of the packing from foot traffic, was at its worst actually on the trail. But it was trecherous and tiring. Eventually we met someone coming down who said it was just going to get worse, and if we had microspikes we should use them. Courtesy of a work colleague who had insisted I borrow them, we had 'em and we smoked 'em. Awesome.

Forty-five degree sheet ice, water running down the surface: no problem. We met several other crews who were forced to turn back.
Above: A classic monorail: single-track of packed snow and/or ice. Left: RT trudging up one of the slushier sections. Below: Looking down on Cannon Mountain Ski Resort in the middle distance. Stripes on the lower slopes are ski runs, and the pimples closer to the peak belong to the cable car.


Below: Finally on top of Little Haystack. 3.2 miles from the car. Book time 3hr 10mins. We did well to do it in about 30 minutes more than that. A better view of Cannon Mountain Ski Resort, and a good idea of how perfect the weather was. Not too hot, not too cold, and while not crystal clear, who's complaining?

Here's a funny thing. We were stopped for lunch just below the summit of Little Haystack (4780), two girls passed us and noticed that I had lost one of my favorite gloves (only one hanging from the back of my pack). Never fear says they, a guy behind us picked it up. So as we ate lunch I asked folks who came by, but nobody had seen the glove. We gave up, moved on, and were on the summit of Lincoln chatting to a father and daughter who were also sunbathing there when the two girls come by again, and say he's the guy with your glove! What are the odds?
| | |
| --- | --- |
| So here begins Stage Two. 1.7 miles of spectacular ridge walking, first to Mt Lincoln (5089ft) then on to Mt Lafayette 5260ft). These tree-free miles are what makes the highest White Mountains spectacular (after the rugged hard work to get up here) and are why I find it so hard to get enthusiastic about the majority of the famous 48 4000 footers in New Hampshire. Best of all, it turns out that stepping on the Appalachian Trail is on Nick's bucket list and the (AT) on the sign indicates that the Franconia Ridge Trail we will now follow is part of the Appalachian Trail. He's tickled pink. | |

| | |
| --- | --- |
| | |

Finally on top of Mt Lafayette, it's still light, we're still dry, it's only an hour or so to the hut, which we can see from here, there's no timetable for getting to the hut, and it is warm enough that folks are just hanging out. We just hang out too. Life is good.

That's Mt Washington again in the far distance between Nick and RT. And check out this very cool panorama Brian made. Nick and RT are ghostly because we must have moved during the filming.

Let me know if you have a problem viewing this. And notice that the little indicator on the map even moves to show the direction of view!
| | |
| --- | --- |
| The shoulder of Mt Lafayette that leads down to Greenleaf Hut is so rocky and exposed that the blazes are mostly replaced by cairns. Some bigger than others. Eventually we hit the tree line, and then a little depressingly, just as you think you are approaching the hut, you find that there is something of a ravine in between. Over the top of the ravine and down the other side, the final obstacle is this water crossing. | |
I'm ashamed to say we skirted around this water trap instead of wading through it, which is a big environmental no-no. We were tired, it was late, it was too close to the hut to dry off and lace up again, yet too far to finish in bare feet, but it was not right.

BG and I are used to full hut service: the staff of half a dozen or so put on a three course evening meal, there are blankets and pillows, and in the morning full breakfast. There are also about 90 guests, some of whom are louder than others, and the snoring competition is so hotly contested that the hut has taken to giving away the ear plugs. I'm not criticizing: I love it, especially seeing the pre-teen members of our parties (and others like them) having a good time. There are no age, class, color or other barriers: if you made it here, you are one of us.

But the contrast is almost as delicious. Only one caretaker (Levi) and 11 guests. We had freeze-dried chicken vindaloo and the hut had a hot water boiler in the kitchen so all we needed to do was pour hot water over the mix and start in on the wine and port while we waited. There was also keilbasa, salami, tomatoes, and bread. Levi brought his own plate of food over to join our little group and we introduced him to port. He was an interesting guy, with tales of a pine marten visiting the hut on a regular basis which is how we came to be hanging out on the veranda in the morning to catch the fox on the pond.

After a couple of final rum shots, and in fading light, we were happy to get horizontal, and as predicted most people set to sawing off logs.

| | |
| --- | --- |
| | |
| | |
| --- | --- |
| | |
| | |
| --- | --- |
| | |
Left: RT and BG pose dramatically, but if anything, we are distracting from the actual focus, which is the tree root that appears to have grown around a boulder, except where is it? It's as if it has dissolved.

Below: another of those boulders, this one still where the glaciers left it as they receded. This is a good example of how much time Nick was trying to waste. We gotta move along.
Suddenly we were done. No flies, no mosquitoes, no rain, no floods, no mishaps, and just the right amount of challenge. Other folks had to turn back because of the ice and snow, but we had fun. The river crossings were scary, but never felt more of a threat to progess than slowing us down while we each calculated our plans of attack. Wikipedia claims the White Mountains are the "most rugged in New England" so even if we were the slowest pokes on the mountain, there is a deserved feeling of accomplishment.

So now there was nothing left to do but to celebrate in time-honored tradition, at the local brew pub, The Woodstock Inn, North Woodstock. Nick ate bison for the first time, while BG taught him more about baseball than I know after living here more than 20 years. Nick's sample flight of beers revealed Pig's Ear as the all around favorite, so we filled a growler with that and headed home. We shared the growler on the porch at home, resting on our well-worn laurels. Done.