Finally the house can be seen from the main road.
The space in between is the leach field.
You can just see the road for our development on the left. Where the road and the first tree on the left meet is where our drive will be.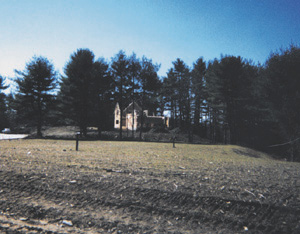 Back of the house. It's a monster! Coming from a cape, where the basement is underground, and the upstairs is in the roof (so it gives the illusion of only being one floor) this place gives the illusion of being three floors. At least it does from the back. It should be somewhat less imposing from the front.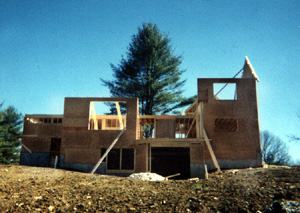 There's enough house to start doing interior views now. So if you are interested, here's the story so far...
Details this week: Exterior walls are the big change this week. Lolly columns replace the wooden props in the basement. The upstairs floor is in, but not much else. Minor interior walls downstairs are missing (bathroom and closet, laundry room). You can tell from the studwork (and the heavier joists) where the fireplace will go, but there are no other signs.
It's already clear, standing upstairs, that the view towards the pond from the master suite is not great. More trees than water. The main window looks across the yard beyond the drive (where we'll have flower beds?) and then across the leach field (in other words, pretty much directly at the photographer of the top picture here).