On our way to the airport on Sunday, we returned to see how far they got. Not far. But we are assured it will be finished by Monday, because the insulation is going in then.
Mother in the foreground, Tyveker's in rear.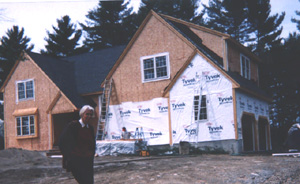 Details this week: finally, they've started to wrap. This is a big step, because once the house is sealed, the weather can no longer affect the work.
They've done what they can this week, but we've probably lost two weeks because of the wettest April on over 10 years. But the oil tank is in. So is the garage floor slab and so are the doors. The first coat of the driveway is down.